Google Photos for Android update lets you snip video length and reorder album pictures
The 1.3 update also lets you login to the app and manage pictures for a Google+ page.
The latest tweak to Google Photos gives you more control over albums and video editing.
With the 1.3 update, you can reorder the images that are inside an album, which may be helpful if you want that package of vacation pics to match the timeline of the trip.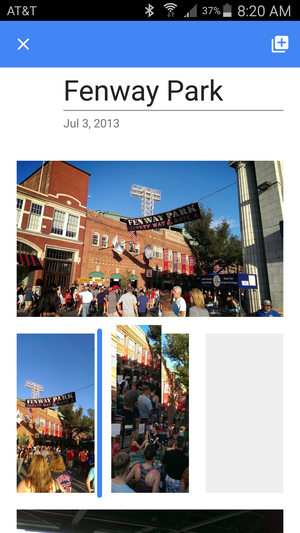 Reorder the pictures inside any of your albums with the latest version of Google Photos.
You're also now able to trim the video length of the movies you shoot thanks to a new timeline interface, so no need to fire up a video editor if that's the only change you need to make.
You're also able to login with your Google+ page credentials, which could be useful if you want to manage or add in new images for sharing with your network.
Finally, the changelog also says Google Photos will "recognize collages/animations that Google Camera creates."
Google Camera can create Photosphere and panorama images, but perhaps more is in the works, along with deeper ties to Google Photos.
Google Photos 1.3 is in the Play Store or APK Mirror.
The impact on you: Google Photos is one of the best photo backup solutions on Android. Fortunately, Google seems to be eyeing continual improvements, aware that many other cloud services are in play to be the home for all your pictures. It's also a great cross-platform pick, with a dedicated web and iOS app.