Hands-on impressions of the Pixel C, Google's answer to the Surface and iPad Pro
Google's new tablet isn't a Nexus, and it's ready for serious work. But will that keyboard suffice?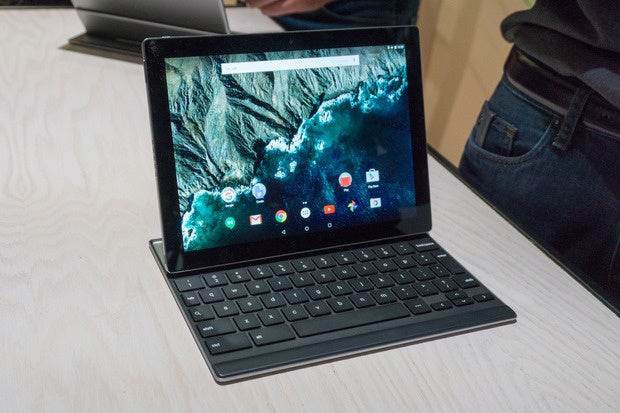 Credit: Jason Cross
Android is ready for work. Google's productivity apps (Docs, Sheets, Slides, Keep) have been polished and refined, and Microsoft's Office suite has never been better. But despite a flood of cheap Android tablets, and business tablets, and some experiments with Android convertables over the years, Android tablets have never made inroads as serious productivity machines.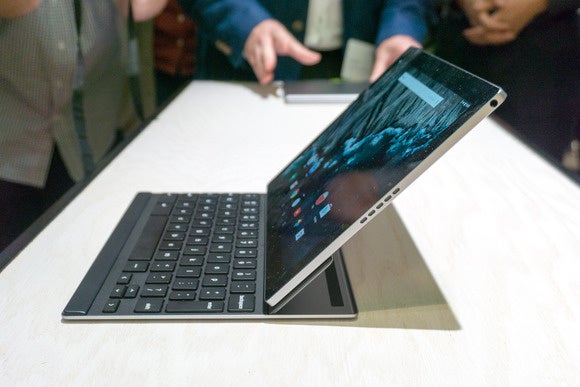 The Pixel C's magnetically-attached keyboard cover is tougher than it looks. Credit: Jason Cross
Enter the Pixel C. The latest hardware out of Google's Pixel division doesn't run Chrome OS, it runs Android. But it's not a Nexus—it's not built by a third-party hardware partner as a means of providing a development platform for the Android OS. It's a Pixel, entirely built by Google to provide an "aspirational" example of what products based on Google's technology can be.
Lots of power in an aluminum shell
Just as the Chromebook Pixel is one of the most powerful Chromebooks you can buy, the Pixel C is bound to be one of the most powerful Android tablets on the market. It's powered by an Nividia Tegra X1 chip with 3GB of RAM, the same as you'll find in the Shield TV console. It's got a 10.2-inch display with a resolution of 2560x1800. That's an odd aspect ratio for a tablet or laptop; it follows the square-root-of-two ratio of A-series paper.
Google was proud of the display's brightness of 500 nits, and it did indeed look bright and easy to read, though the demo room I tried it in is no analog for the outdoor sun. Color reproduction looked great, too. Performance was as fast as you'd expect of a stock Android device with such a high-end processor: Everything popped open in a flash, and scrolling was always buttery-smooth.
The tablet is sheathed in anodized aluminum, just like the Chromebook Pixel laptops. It has that same clean, simple aesthetic without the squared-off corners. It's reasonably light at about one pound, but it still felt heavier than most other premium tablets on the market these days. Packed inside is a sizable 34 watt-hour battery that Google says will last over 10 hours.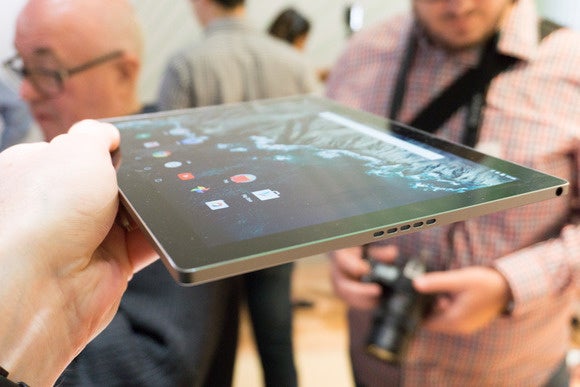 I wish the tablet portion of the Pixel C was a bit thinner and lighter, but all that battery has to go somewhere. Credit: Jason Cross
Judged purely as an Android tablet, it earns high marks. It feels rock-solid (if heavy) in the hands, it has an attractive display, and performance is fantastic. At $499 for the 32GB version and $599 for the 64GB model, it seems like a solid high-end tablet. If I didn't know any better, I would call it the "Nexus 10."