Hands-on impressions of the Pixel C, Google's answer to the Surface and iPad Pro
Google's new tablet isn't a Nexus, and it's ready for serious work. But will that keyboard suffice?
I would wish for it to be considerably thinner and lighter, though. The latest iPads and Samsung Galaxy Tab S tablets have spoiled me. It's a bit too large and heavy to hold in one hand while reading a book, but would make a great "rest it on your lap" tablet.
A keyboard that is cut, not cramped
But resting it on your lap isn't the use case Google has in mind. Google wants you to slap on a keyboard and use it like a laptop/tablet hybrid. You know, just like a Surface Pro or that new iPad Pro, only without the stylus.
The Pixel C keyboard will set you back an additional $149. It's such an important part of the experience that it seems sacrilegious to buy one without it. It magnetically snaps to the front of the tablet to protect it in your bag, or to the back so you have a place to stow it when using the Pixel C as a pure tablet. But let the strong magnets latch onto the wide hinged lever on the back and you can type away while holding the tablet up at angles from 100 to 135 degrees. (You can also snap it completely flat.)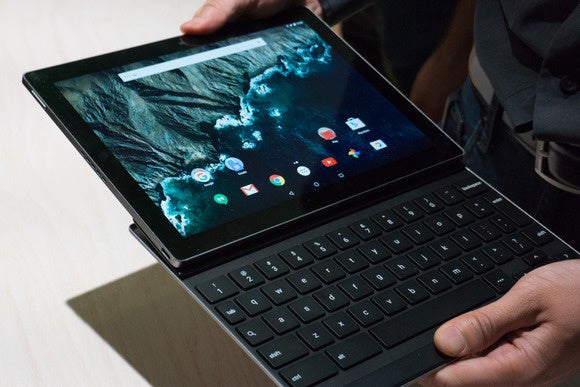 The keyboard snaps on with a satisfyingly strong magnetic grip. Credit: Jason Cross
The magnetic latch works great. It's strong and simple, and works just as you'd expect it to. The keyboard itself is a different story. You can't fit a full-size keyboard on this thing without making a few sacrifices. Rather than make all the keys smaller, Google just removed some, and trimmed back others. The result is a keyboard with nearly full-size letter keys, but with some infrequently-used symbol keys missing (you'd tap the screen to select them), while other keys around the periphery have been trimmed back. The apostrophe key is skinny, and the Enter key is tall and narrow. The Tab key, usually 1.5 keys wide, is half that width.
The result is a keyboard that is easy to type on, until it isn't. The keys have good travel and bounce, with clicky tactile feedback. Once I got adjusted, I could type away as I do on my laptop. Until I had to type an apostrophe, press Enter, or hit Tab, that is. Pinky fingers are short on dexterity and precision, hence the wide keys at the edge of your keyboard. By making those keys smaller than the letter keys, instead of bigger, Google introduced an annoying number of errors in my brief typing test. Perhaps a little practice would eliminate them, but who wants a keyboard you have to retrain yourself how to use?