Hands-on impressions of the Pixel C, Google's answer to the Surface and iPad Pro
Google's new tablet isn't a Nexus, and it's ready for serious work. But will that keyboard suffice?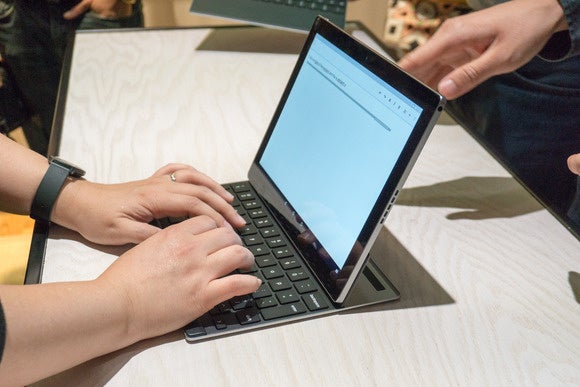 The keyboard has great typing action, but the narrow keys around the edges produced annoying errors when I tried it out. Credit: Jason Cross
The keyboard pulls off a few other neat tricks. It connects via Bluetooth, but intelligently disconnects when the tablet isn't docked to avoid unnecessary connections from the other end of the room when you're using just the tablet. It has its own integrated battery, but it charges from the tablet via induction. As long as you stow the tablet and keyboard together, you'll probably never need to charge the keyboard at all.
Charging, mics, and speakers
Speaking of charging, Google wasn't able to provide charging performance numbers, but said the USB 3.0 Type-C port on the Pixel C can deliver a lot of power and charge the tablet up quickly.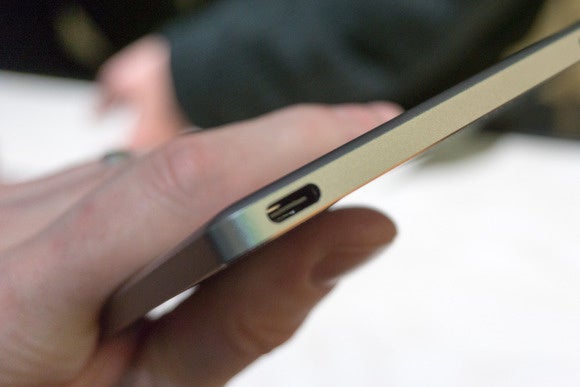 Google says the USB 3.0 Type-C port can deliver enough power to charge the tablet quickly. Credit: Jason Cross
A phone is usually within arm's reach, and not far from your mouth. But a tablet, especially with a keyboard attached, often sits on a desk a few feet away. So Google placed four microphones in an array across the tablet's top edge, so you can "OK Google" from across the room. Gamers and media lovers will be happy to hear that the Pixel C has stereo speakers, though I didn't really get a chance to hear how they sound in the crowded demo area.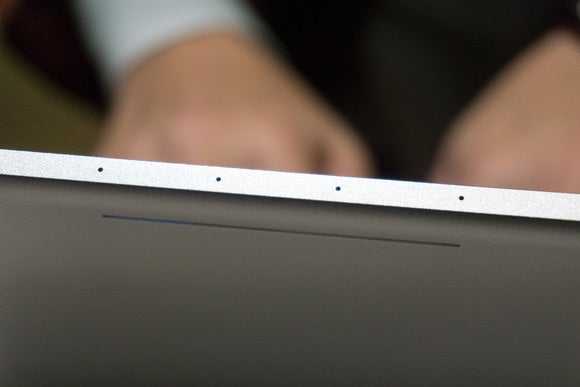 A four-microphone array should make "OK Google" reliable when you yell at your tablet from across the room. Credit: Jason Cross
The Pixel C is an elegant and well-crafted convertible tablet/laptop. Its entry-level price of $650 (assuming you also get the keyboard) is perfectly reasonable when compared against the Surface Pro or iPad Pro.
The choice to use Android here is wise. The plethora of native Android apps, particularly business apps like Office, makes a lot more sense for tablet aimed at productivity. ChromeOS can't do nearly as much without a keyboard. In many ways, the app ecosystem of Android instantly makes this far more useful than a Chromebook Pixel laptop.
Everyone wants to know how the Pixel C compares to the recently announced iPad Pro or the imminently expected Surface Pro 4? Neither of these convertibles is on the market yet, and the Pixel C isn't due until later in the year either, so there's nothing to compare yet. Anyone looking for a high-end tablet that you can slap a keyboard on and get some work done, however, will have better choices than ever this fall, no matter which ecosystem you prefer—Android, iOS, or Windows.
Previous Page 1 2 3