Hands-on: Telefonica's $90 Firefox phone
Mozilla says the phone is targeted at first-time smartphone users — people who are still using feature phones because they haven't had the money or seen the need to switch to a smartphone.
Against those, it does well. The phone didn't seem to lag or slow down with use during my short test. Applications launched relatively quickly and the touchscreen was quite responsive. A few times I ended up in places I didn't mean to go, either because the screen was a little too sensitive or because I tried to scroll the screen just as a button appeared under my finger.
Of the two phones, I preferred the Alcatel One Touch Fire, partly due to its more rectangular form that I found more stylish than the rounder ZTE Open, but that's a personal preference.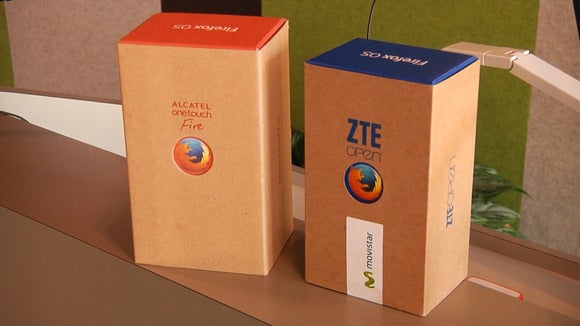 MARTYN WILLIAMSThe retail boxes for the Alcatel One Touch Fire and ZTE Open
Based on my few minutes with the phones, I think Firefox has a chance to attract some of those first-time smartphone users it's targeting. But as Microsoft and BlackBerry have recently discovered, getting all of the major apps on your platform will be important to success. The current app selection might be fine for users just starting out on smartphones, but it will get frustrating fast if they continually see apps on the phones of friends or in the media that they can't run.