Hands-on with iPad Pro and Apple Pencil, built for getting stuff done
The iPad Pro is ready to work, with a huge screen perfect for multitasking and an Apple Pencil for precision design and artistry.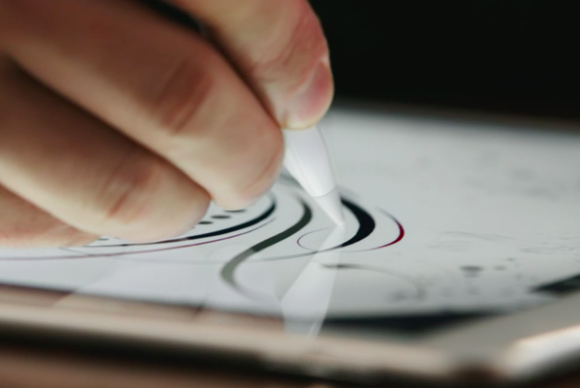 Five years after its launch, the iPad is growing up. The new iPad Pro, introduced at Apple's media event on Wednesday, blurs the line between iPad and MacBook just a little more, with a 12.9-inch screen capable of running two apps side by side without either of them feeling cramped in the slightest.
But as large as it is, the iPad Pro doesn't feel unwieldy, even to me, an avowed fan of the iPad mini. We've learned from the iMac and the iPhone both that people love giant screens with tons and tons of pixels crammed on to them, and that's what the iPad Pro delivers, along with performance that should let more people than ever leave their laptops at home.
Thin and light
The iPad Pro is only 1.57 pounds, which is astonishing since my first-generation iPad is still in active service at my house, and it weighs 1.54 pounds. The iPad Pro is so much bigger but doesn't feel unbalanced or awkward. I could hold it easily, but—and I realize you'll make fun of me for this, and that's OK—I sort of wished it had a kickstand like the Surface Pro.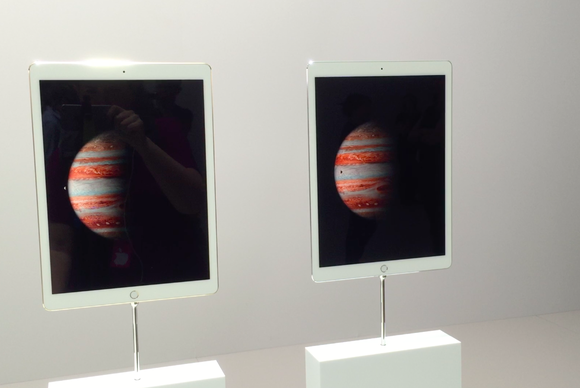 It's the size of a big magazine, or a clipboard. But it doesn't feel unwieldy. Credit: Susie Ochs
But once you have it propped up just how you like, the iPad Pro's screen looks amazing. At 2732x2048 resolution, it's got 5.6 million pixels, and the short side has as many pixels as the longer side of an iPad mini. I was impressed with the responsiveness of iOS 9 on this tablet, as I easily pulled out the sidebar and entered Split Screen view.
Pencil power
You don't need a stylus to use any iPad, and the iPad Pro is no exception. Luckily, the Apple Pencil isn't a stylus. It's not aimed at pointing and tapping things you can reach just fine with your fingers, thanks. Rather, it's for pressure-sensitive drawing and painting in apps as simple as Apple's own Notes app, or as complex and professional as the demonstrated Procreate or AutoCAD.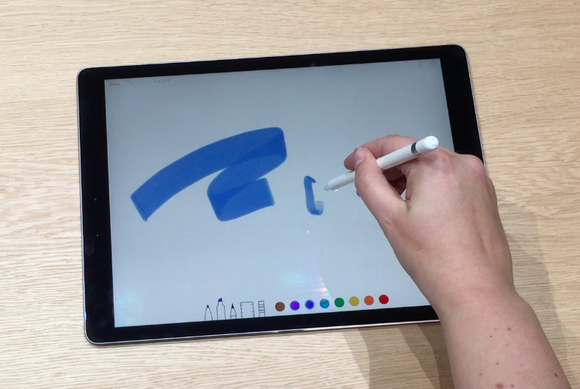 Apple Pencil is a $99 add-on that only works with the iPad Pro. Credit: Susie Ochs
The Pencil felt great from the moment I picked it up. It feels like a pencil, very natural (although you can say the same for other smart Bluetooth styluses on the market), and using it felt natural too. Sensors can detect the pressure and angle, so it was effortless to create lines of different thicknesses. The Notes app even has a ruler that let me draw perfectly straight. Using the side of the Pencil's tip created realistic shading, like using the side of a pencil lead.