Hands-on with the HTC 10: A focused, gimmick-free premium phone
HTC's reinvented high-end phone doesn't break new ground, but gets the fundamentals right.
The front of the phone is now covered by edge-to-edge glass that gives the phone a sleeker look and smoother feel. The metal "forehead and chin" are gone, and so is the big black "HTC" bar at the bottom of the display that frustrated us so much on the last few HTC M-series phones. Capacitive buttons for recents and back sit on either side of the lightning-fast fingerprint scanner and home button.
The result is a phone just barely bigger than the One M9, even though it incorporates a larger, higher-resolution display. The volume and power buttons are distinct and clicky, with better placement and feel than those on the One M9. It feels great to hold and use.
Of course, an all-metal unibody design, while rigid and scratch-resistant, has its drawbacks. You won't find wireless charging, for example, and the battery can't be removed.
HTC has been pushing audio quality on phones for years now, and the 10 continues the tradition. The top speaker (the earpiece) and bottom speaker (down-firing next to the USB port) each have their own separate amplifiers and profiles. The idea is to provide sort of a "woofer/tweeter" setup where one focuses on the low end (as much as you can in a phone), while the other sticks to the high end.
But Boomsound isn't just about speakers. HTC's got a 24-bit audio DSP and 24-bit DAC to support high resolution audio and up-sample low-res audio, along with a very powerful headphone jack to drive those big studio cans you've got at home. There's full Dolby support, including a nice sound profiling tool to adjust audio output to match your hearing and headphones.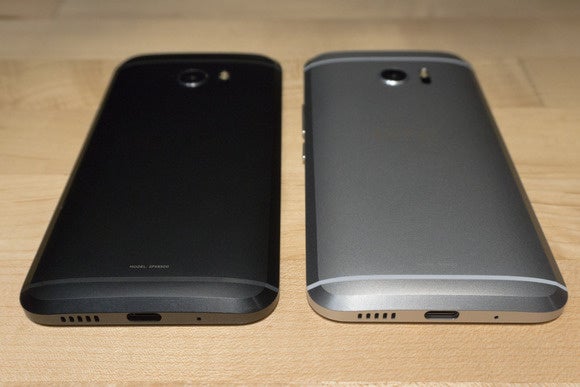 The HTC 10 comes in two colors. A near-black dark grey, and silver. Credit: Jason Cross
As for colors: You can get it in any color you like, as long as it's silver or charcoal grey.
The right software
In today's Android software market, less is more. Several years ago, you could legitimately say that Google's default Android interface was bad and that a good custom interface design was a big improvement. Today, Android Marshmallow looks and feels great, and those heavily-skinned custom interfaces are seen as an annoyance.
Credit to HTC, then, for Sense 8. No, it's not stock Android. It's still got Blinkfeed on the left-of-home screen. It's still got the ability to load themes (and in fact, the theming capabilities are further improved). And it's still got a few custom apps, like HTC's own dialer, clock, and SMS messaging app.
But it no longer looks like an Android KitKat overhaul. Where the current Marshmallow design makes sense, HTC has stuck with it, simply offering more options where necessary. It's fast and fluid at every turn, and it feels like "Android" and not "HTC's Android-based operating system."