Hands on with the iPhone 6s and 6s Plus
Its Live Photos and 3D Touch are especially delightful.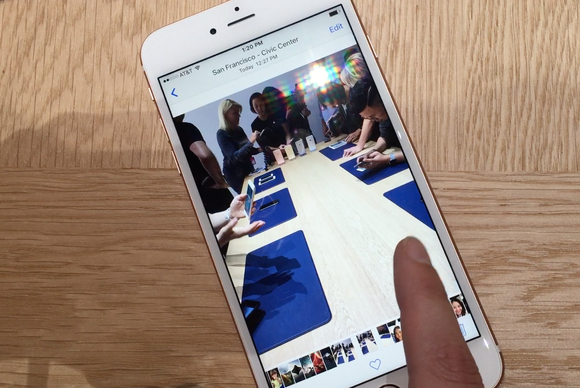 "The only thing that's changed is everything," Apple said about the new iPhone 6s and iPhone 6s Plus at Wednesday's Apple event. That's both true and untrue. The case looks pretty much the same, the screen sizes didn't change, and the entry-level model still has a paltry 16GB of storage. But inside it's an all-new iPhone with some impressive new capabilities.
I got hands-on time with the new models, and even though the presentation didn't blow me away, the new 3D Touch and Live Photos features deliver a delightful experience.
Live Photos
"What is a picture?" pondered Phil Schiller on stage. After more than an hour and a half of keynote, this wasn't a philosophical debate I was excited about having. But he had a point: A photo is a still image of a moment, but a moment can have a beginning, middle, and end that one frame can't always fully represent. Enter Apple's new Live Photo feature. It's on by default in the main Camera app, and if you leave it on, it automatically captures 1.5 seconds, er, moments before and after your shutter press.
That sounds like a video, but Apple says it's not a video. These are 12-megapixel photos captured by the rear iSight camera, and if you send them to a friend who's using iOS 9 or El Capitan, an animation comes with. (And if you send them anywhere else, they arrive as plain JPEGs like usual.)
Flipping through the Live Photos in the Camera Roll, you'll see a little glimpse of the animation—it's just enough motion to let you distinguish a Live Photo from a standard one. When you press harder on a Live Photo (a maneuver Apple calls 3D Touch on the new iPhones), you'll see the full three seconds of motion.
I have a 3-year-old, and a lot of my photos of him wind up blurry because at least some part of his body is in motion virtually all of the time—the boy is a walking wiggle. I don't think you get to scrub through a Live Photo frame by frame and pick out the single still image that's not blurry, but getting to see an animation of one of his wiggles would beat any blurry photo, or one where his eyes are closed.
Developers will get to use Live Photos too—Facebook is working on supporting Live Photos, aiming to finish by the end of this year. But even if they never leave the iPhone itself, Live Photos are just delightful. You can even use one as your lock screen wallpaper, and then 3D Touch it to make it move.