Hands-on with the new, proactive Spotlight in iOS 9
The update to Spotlight should save you loads of time getting to where you want to go.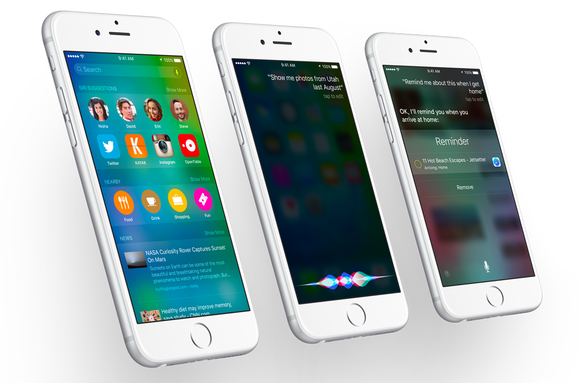 Credit: Apple
Spotlight in iOS has never gotten a lot of respect, even as it's become more powerful. Hidden as a swipe-right option from the home screen before iOS 7: The Flattening, it's only starting with iOS 8 that it went beyond a rough way to find stuff within a set of Apple's apps to become a more robust combination of deeper searching and suggestions of what you might want.
iOS 9 takes it a step further, integrating suggestions from Siri and opening up to third-party developers including their results. It makes for a much richer experience, and more is to come as apps are updated.
Proactive search and app search
iOS 8 brought in information from the rest of the world: Wikipedia results, information from current news, places and movie showtimes near you, appropriate matches from things Apple can sell and give you (apps, books, music, movies, and the like), and websites that might match your search.
In iOS 9, Spotlight goes further with Siri Suggestions, which incorporate contextual information about apps, contacts, places, and the like—who you've talked to recently and where you are provide clues before you even tap in a character of your search, just as they prime Siri when you speak.
But Apple provided a bit of misdirection. After retraining us in iOS 7 to swipe down from any screen to bring up Spotlight, iOS 9 brings back swipe-right on the home screen. The difference?
From the main home screen, swipe right, and "Proactive Spotlight" with Siri Suggestions appears, showing everything.

Swipe downward from the top of any home screen, and only suggested apps are shown.


The Spotlight swipe-down results show just Suggested Apps.
Retrain your brain! The idea ostensibly is that swiping down means you're looking for apps; swiping right, you're looking to…party? Well, you're looking for more.
Just swiping right brings up a useful potpourri of things you certainly want. In my case, I see my wife first and foremost at the left, and then recent and frequent pals. The apps list the four most recent ones I've used for more than a moment here and in the downward-swipe screen.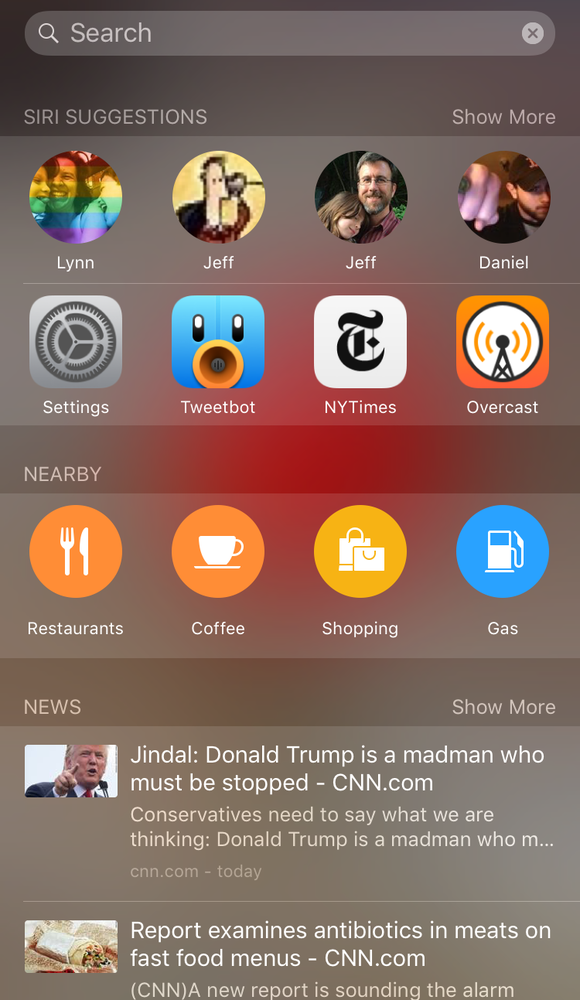 iOS 9's new Proactive Search brings up potential matches even before you type.
The Nearby section isn't filled out. Rather, tapping Restaurants, Coffee, Shopping, and Gas opens the Maps app with the appropriate results. Finally, the News section ostensibly shows recent and useful results (with links opening in Apple's new News app), though in my case it was just the top four recent CNN stories.