Hands-on with the new, proactive Spotlight in iOS 9
The update to Spotlight should save you loads of time getting to where you want to go.
Tap in a search and get third-party results
Tap the search field, whether you swiped down or right, and start tapping in names, words, or terms, and Spotlight begins to pull in local matches and those that require an Internet lookup, such as Bing search results. These results are very similar, if not identical, to what you would have seen in iOS 8.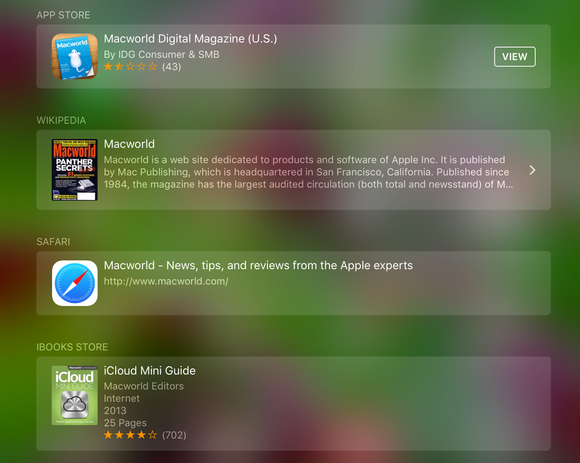 Searching for "macworld" brings up results across multiple Apple apps.
However, it's what's to come that you're going to love. App developers will be able to build in two kinds of Spotlight searches: private, on-device indexing of information you enter or behavior you engage in within their apps; and global information related to their app that they'll publish to a website that Apple can index and then include in Spotlight results. Apple says the private index is kept on your device and not shared with the company.
For example, you might install a bike-route program that lets you name and mark favorite routes, but that also has a catalog of 10,000 routes you can choose from within the app. When you use Spotlight, any routes you've marked would come up from the local, private store, and not be shared with anyone else. But Spotlight will also spider and index all the information about routes that the developer formats to be included. Search on Willamette River, and you find your favorite set of paths, but also a list of every route that the app includes with that name in it.
Or, picture a revised version of Netflix, so that when you search any movie or TV show, everything on your "watch later" list comes up from your private store, but Spotlight also searches against each of these services' databases of all video content.
Apple lets app makers include deep links within the app, so tapping a Spotlight result takes you directly to the right place. And developers can also index content via their website and use a specially formulated URL so that if you don't have the app installed, Spotlight can still pull in results: a tap takes you to the appropriate webpage or web app service function instead of opening a deep link in the app.
This last part is quite interesting, as it lets app developers show you what they have through Spotlight without having already convinced you to install their app. This should help you discover apps, and could help developers find customers.
You can also always tap Search Web and Search Maps at the bottom of Spotlight. Search App Store only appears if there are any matches, as Apple knows the entire contents of that store.