Hands-on with the new, proactive Spotlight in iOS 9
The update to Spotlight should save you loads of time getting to where you want to go.
Keep it secret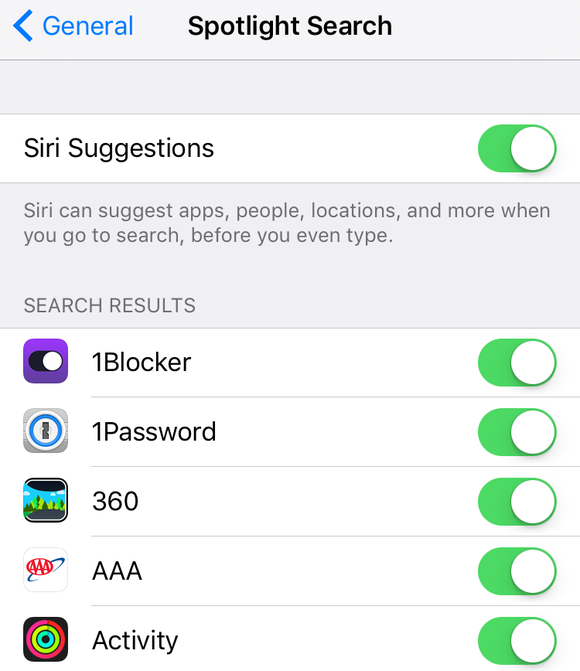 Spotlight Search settings let you disable search for iOS features and individual apps.
You may not like these innovations, including some that predate iOS 9, such as the inclusion of Bing Search Results. Fortunately, you can pick and choose what you want by going to Settings > General > Spotlight Search. Disable Siri Suggestions to remove the pre-search "proactive" results you see for apps, people, and other elements.
Every part of the system, every extra, and every app in iOS 9 has an on/off switch under Search Results. This can be absurdly long if, like me, you have a lot of apps installed. And Apple doesn't group these by iOS-specific items, into app categories, or the like.
In my list, I see Calculator (an app), Calendar (an app but also a service), and Camera (an app but also information associated with your photos) one after the other.
The items you might be most interested in turning off are Bing Web Results and Spotlight Suggestions, both of which send information about your search and device elsewhere. For Bing, Apple says that Microsoft receives limited information that's passed through Apple's servers, and doesn't store the queries.
With Spotlight Suggestions, however, you're potentially sending Apple your current location, details about what music and video subscriptions you have active—and which suggestion you tapped on, if any. Disabling both Bing and Spotlight Suggestions limits searches to data stored on your iOS device.
What's missing
Spotlight lacks a feature that will be coming in part to Apple TV and that's neatly incorporated into Google products: find out where I can watch or purchase a given movie or TV show. While each video app can expose its own library of stuff, Spotlight doesn't match the same kind of thing outside of Apple's own services across multiple categories. Can you imagine asking Siri or tapping into Spotlight, "Where I can watch Pitch Perfect 2?" and getting a list starting with apps you have installed and active subscriptions you pay for?
Apple filled in most of the gaps with this update to Spotlight, but we won't see its full flowering until developers start to take full advantage of integration through apps, local data, and web-based results. Because this benefits Siri results as well, you may find yourself no longer hunting for the right results: the first matches could be just what you wanted.
Previous Page 1 2 3