Here's what to expect from Nintendo's next iPhone games
Miitomo was an odd starting point, but the real games are coming this fall.
Things are looking a little uncertain for fans of Nintendo's console games and hardware. That's been the case for a few years now with the rocky run of the Wii U, but Wednesday's announcements hit pretty hard: Nintendo's next console, codenamed the NX, will be released in March 2017, and The Legend of Zelda for Wii U will be delayed to launch then on both systems. And that leaves potentially little new for Wii U owners to play later this year.
That's disappointing. But some good news did come out of Nintendo's info dump yesterday, at least if you like mobile games. We now know what to expect from the company's next iPhone (and Android) releases, and unlike last month's Miitomo, they will be actual games. In fact, Nintendo said just that: "Both of these are pure game applications," they wrote.
Nintendo's next two mobile games will be based on the Fire Emblem and Animal Crossing franchises, respectively, both of which have spanned many years and entries on its own hardware—and both will be out this fall. We don't have a lot more details than that right now, but given each series' legacy, we have a sense of how they could translate to the iPhone. So here's what we expect.
Igniting the Fire
The Fire Emblem series stretches all the way back to 1990 and spans numerous entries—many of them handheld—although we didn't see any in the States until 2003. Fire Emblem is a tactical role-playing game series wherein you'll control units on a grid-based battlefield, not unlike iPhone favorites The Banner Saga and Final Fantasy Tactics. Of course, both of those games started on other platforms before being translated to touch.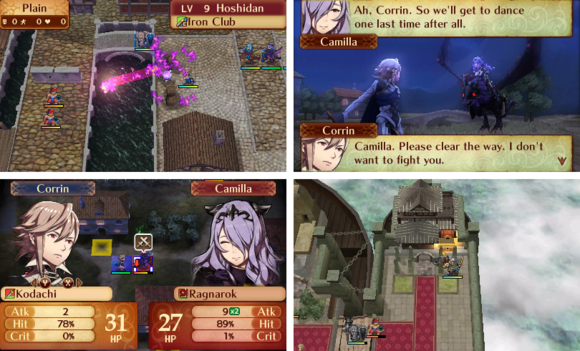 Here is the critically-acclaimed Fire Emblem Fates from Nintendo 3DS. If anything, higher-resolution iOS device screens should improve the presentation.
What's especially distinctive about Fire Emblem is just how hardcore of a series it is: They're long, sprawling adventures, and if a character dies in battle under classic settings, he or she remains dead for the rest of the game. Also, the most recent Fire Emblem Fates released for Nintendo 3DS earlier this year spans multiple games, letting you view the struggle from the perspective of multiple factions.
In other words, it's huge and engrossing, which usually isn't what we expect from mobile games. So it's no surprise to hear that Nintendo plans to streamline the experience for iPhone and make the game seem a lot less intimidating to newcomers. "While making it more accessible in comparison to the Fire Emblem games for Nintendo's dedicated gaming systems, Nintendo aims to offer the great value of a role-playing strategy game," reads the awkward press release statement.