How and when to capture 4K video on the iPhone 6s and 6s Plus
Confused about 4K video? You've come to the right place.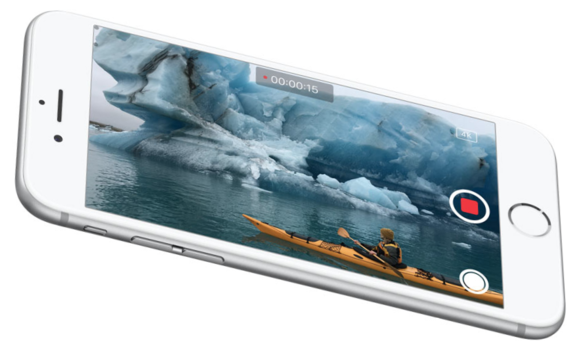 Credit: Apple
Now that there's an iPhone that can shoot 4K video—yes, yes, Android users, we see that face you're making—we thought it was time to put together a nice, simple guide to 4K video, explaining what it is, what it means, and how—and when—to use it.
The basics: What is 4K?
Firstly, the "4K" that 4K refers to is the number of pixels across a video file's horizontal dimension—which is around 4000. (Note that HD resolutions usually refer to the vertical dimension, just to keep you on your toes.) HD video, the previous standard, came in a few specific versions, but today most of us would understand it to mean 1080p, that is, a video resolution of 1920-by-1080 pixels. Compare those two horizontal measurements, 1920 and "around 4000," and you'll note that 4K video has more pixels. That is, all things being equal, 4K video contains more detail than HD video, in a similar way to how a Blu-ray's image has more detail than a DVD's, and so images look sharper and more lifelike. (There are lots of technical details about codecs and color spaces and frame-rate that can get in the way here, but let's not get bogged down.)
Pedants will, with some justification, howl at this gross simplification, but here goes anyway: Basically, 4K video looks better than HD—so long as you're watching it on a screen that has enough pixels to display all its detail.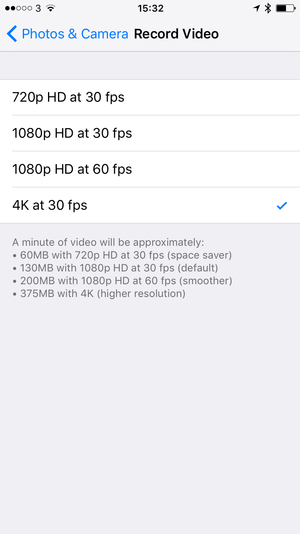 The reason we've said that 4K is "around 4000" pixels across is that "4K" is a bit of a catch-all term that can mean a few different things. Remember when HD first appeared and we all got confused about how "HD" would be used to mean 720p, 1080i, Full HD, HD Ready, and so on? Yuk. Well, it's all happening again with 4K. If you'd like to, you can familiarize yourself with the technical details of all the standards that get lumped together under the umbrella term "4K" on Wikipedia, but let's keep things simple by sticking to the flavor of 4K you'll be creating if you have an iPhone 6s or 6s Plus.
To shoot 4K videos on these devices, go to Settings > Photos & Camera > Record Video and tap the bottom setting: 4K at 30 fps.
Now, rather than your videos being 1920-by-1080 pixels, they'll be 3840 (see? "around 4000") by 2160. That's exactly double the dimensions along each edge, which is like taking four HDTVs and stacking them in a two-by-two grid.