How iOS 9 fixes HealthKit's woman problem
Apple forgot that reproductive health is hugely important to women when it released HealthKit. That changes this fall.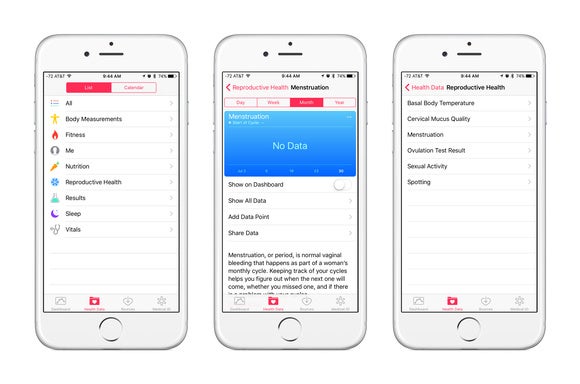 One major highlight of iOS 8 was HealthKit, a framework designed to centralize the health information collected by the third-party apps you use. But there was a huge hole: The native Health app that acts as a database for all that information didn't collect any data around women's reproductive health, despite the fact that a slew of iOS apps are dedicated to helping women track periods, sexual activity, and other stats. Not surprisingly, women noticed this glaring oversight and said to Apple: "Really?"
Apple is fixing its mistake in iOS 9 with a Reproductive Health section in the native Health app. The app collects the following data points: basal body temperature, cervical mucus quality, menstruation, ovulation test result, sexual activity, and spotting. You can enter your own data here if you don't use a period-tracking or sexual health app, and Health really drills down into specifics (we're talking mucus clarity).
While HealthKit is just a framework and nothing prevents women from sharing their health data with a specific app, the whole point of HealthKit is to unite all of that data in one place. It's like taking your patient charts from various doctors and specialists and compiling a master electronic medical record, right on your iPhone. Even if you never look at it (and who really looks at the iOS Health app?), it's just nice to know it's there if you need it.

The new HealthKit Reproductive Health section in iOS 9 asks for data points that are incredibly relevant to women.
More than period-tracking
The Reproductive Health addition to HealthKit in iOS 9 isn't just about period-tracking—it's about how period-tracking and other reproductive data points offer insights into a woman's overall health.
"For women to fully understand and have a complete picture of our health, physical fitness, sleep, and nutrition are key parts, but it's incomplete," said Jennifer Tye, vice president of partnerships for women's health app maker Glow. "You aren't also able to see and track information about your cycle. That's a fundamental part of completing a picture of the health of a woman."

Ruby by Glow is a new iOS app that makes it super simple for women to log their health data every day.
"The more that technology and apps enable this logging and sharing of menstrual data in a responsible way, and the bigger the ecosystem that exists, we think that's a great thing," Tye added.
HealthKit's API lets health and fitness apps read each other's data if you allow them to, which can be incredibly useful. One common case is a food-logging app that knows how many miles you run by tapping into your running app's data. Then it calculates how many calories you burn and consume throughout the day to give you an overview of how effective your diet and exercise routines are for weight maintenance. There are also unique examples like a new medical alert app that pushes you notifications when it reads out-of-range blood glucose data from HealthKit-integrated apps and iOS accessories. The app can also alert your emergency contacts with dangerously out-of-the-ordinary readings. With women's health data now available in iOS 9, developers can do a whole lot more with the info you give them.