How iOS 9 fixes HealthKit's woman problem
Apple forgot that reproductive health is hugely important to women when it released HealthKit. That changes this fall.
Putting HealthKit to work
Earlier this summer, Glow, which also created the fertility-tracking app Glow and pregnancy-tracking app Nurture, launched a new iOS app, Ruby, to help women track sex and health data. Glow was already integrated with HealthKit, but that app is focused on helping women conceive, and so the information it asks for and the data it generates are tied to pregnancy. Tye said the company realized half of its users were using the Glow to avoid pregnancy, and so Ruby was created to pick up the slack. Ruby users log information daily about sexual activity, mood, and period symptoms. With iOS 9's release this week, Ruby has been updated to marry its sexual health data with data from other apps to give its users a deeper understanding of their well-being (with their express permission, of course).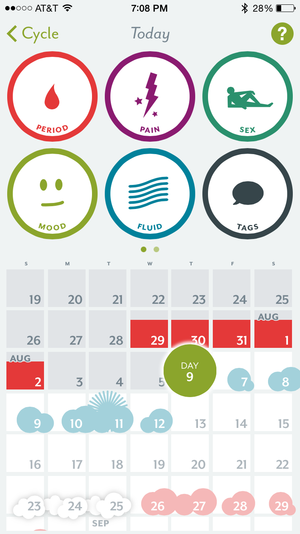 Clue is working on an update for iOS 9 that will let women log way more information.
"Our goal is that soon enough [HealthKit] will help us to share really targeted insights in Ruby users' daily lives," Tye said. "If you know when your pain tolerance is highest in the point of your cycle, you can book a waxing appointment. Or wouldn't it be great to have an alert before your next period to make sure you stocked up on ibuprofen? We think this can help women manage their lives."
For women who are active and using fitness apps to log their accomplishments, or for women who are getting in shape and using those same apps to track their progress, the integration of that data with sexual health data could yield some interesting insights.
"Running is something many people do, and I know from my own experience that when you have your period, running feels quite different," said Ida Tin, cofounder and CEO of period-tracking app Clue. "You might have pain, you might not feel as sporty as you usually do. But running relieves pain and gives you energy, so knowing your cycle makes exercise very interesting, and knowing how exercise affects your cycle is very powerful."
Clue is working on its own major update timed for iOS 9's rollout that will add more tracking categories. Apparently, Tin said, women want Clue to track more of their data so they can see trends and understand their overall health.
"Wouldn't it be great to have an alert before your next period to make sure you stocked up on ibuprofen? We think this can help women manage their lives."
But HealthKit's data-sharing isn't just useful for women. Apple's healthcare partners willl also be able to tap into that reproductive health information, if women choose to share it with them, just like they can see all other HealthKit information (again, if patients opt in). Having access to that data could lead to more attentive care, faster diagnoses, and other benefits for patients.