How to edit spreadsheets on an iPad
Calculate on the go with files from Numbers, Excel, and more
Quickoffice Connect Mobile Suite and Documents To Go These two apps share an important feature: unlike Numbers, they can open, edit, and save an Excel spreadsheet without stripping out any data or formatting, even though they can't display or edit all the existing information; spreadsheets can make the round trip from Mac to iPad and back safely, without losing anything. This could be a crucial capability for those working with spreadsheets on multiple platforms, especially if they were created by other people.
Quickoffice's $10 Quickoffice Connect Mobile Suite for iPad is especially finger-friendly, thanks to a large default font size and handles that make it easy to select a range of cells and change that selection at any time. DataViz's $10 Documents To Go uses a smaller default font and a more efficient layout that fits more information on the screen, but is slightly less convenient to work with. For example, you can double-tap-and-drag to select a range of cells, but you can't modify the selected range without starting over. Still, both apps are solid, competent spreadsheet editors.
Quickoffice Connect Mobile Suite is an especially touch-friendly spreadsheet editor. For example, it features handles that let you extend selections easily.
Sheet2 HD and Office2 HD Byte2's $6 Sheet2 HD and $8 Office2 HD office suite include spreadsheet editing capabilities. (Office2 HD also lets you edit Word and PowerPoint files.) These two apps both save most, but not all, features of an original Excel document when you save a spreadsheet. Charts, however, don't make the cut.
Mariner Calc Mariner Software's $6 Mariner Calc for iPad has a full complement of basic spreadsheet functions. It can read and write Excel files (.xls only, not .xlsx), but lacks charts and forms. Transferring files to and from your Mac requires that you use its built-in Web server, which is wireless but still more awkward than going through Dropbox or other cloud-based services.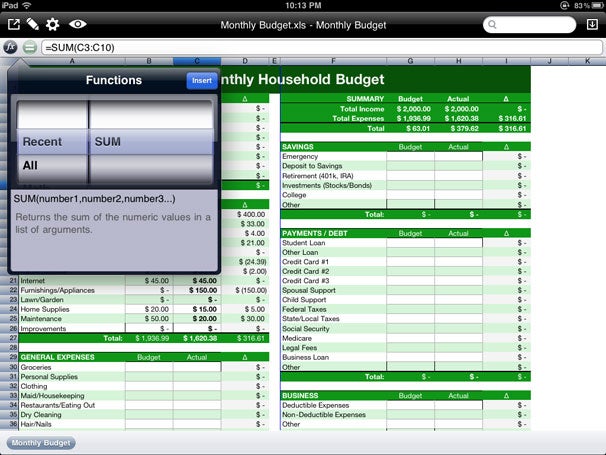 Mariner Calc for the iPad offers a full selection of standard spreadsheet capabilities.
Google Spreadsheets Google Spreadsheets, the spreadsheet component of Google Docs, can import and export Excel files (with some loss of formatting and other features). However, using this Web application in Safari on your iPad is unsatisfying. By default, spreadsheets open in list view, which lets you modify values, add rows, and change sort order, but not add or reorder columns, edit formulas or styles, or add graphical elements.