How to get started with Apple News, iOS 9's Newsstand replacement
Looking for something to read? Apple is now delivering your daily news.
You can tap a story to read the full article, or tap and hold to pop the options to Share, Save, or Like a story directly from the homepage. (Because who actually needs to read a full article nowadays before sharing it on social media?)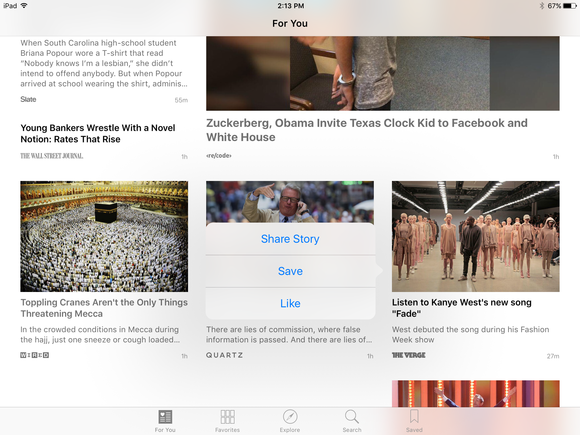 Similar to how it works in Apple Music, the For You section in News "learns" from your preferences. "Like" a story on the homepage or on by pressing the heart icon on the article page and News will know to surface similar suggestions. For You also sporadically shows a row of topics "you might like," but these suggestions—Business, Politics, Entertainment, and Sports—didn't seem specifically tailored to me.
Find channels and save stories
In addition to For You, the News app has four other tabs on the bottom of the screen: Favorites, Explore, Search, and Saved.
The Favorites section is where you can view, manage, and edit the channels and topics you are subscribed to. Explore has a list of suggested channels and topics for you to consider adding. And if you can't find your local newspaper or favorite website, you can always Search for it. (It's worth noting that if your favorite blog isn't in Apple News, you can't add its RSS feed on your own.)
Lastly, Saved is akin to the Reading List in Safari, a place where you can store all the articles you wish to read later. It also includes a History tab, which you can clear if you ever spend too much time reading US Weekly.
Read articles in Apple News Format
Apple claims to have recruited 50 publishers to be launch partners for News, including Wired, CNN, The New York Times, The Atlantic, ESPN, and Slate. These publishers worked directly with Apple to format a few feature stories in what Cupertino is calling "Apple News Format." You can read full articles from all these publishing partners on Apple News, without ever visiting their own websites.
This new eye-popping format incorporates large images, video, slideshows, pop-up text, and other multimedia features. Apple News Format also has its own tagging and category system to surface similar reads once you reach the end of an article.
You can get a sense for how each publisher has played around with Apple News Format in the Apple News Updates channel (previously Apple News Selections), available in your Favorites tab. For example, Wired's recent cover story with actress Rashida Jones is full of bells and whistles (slide-in text, video embed, etc.).
Not every story from an Apple News partner is as eye-popping, however. The rest of Wired's stories follow a template. It's still custom to Wired—using the magazine's logo, font and iconography—but it's not as dynamic as its Rashida Jones "enhanced" cover story.