How to install and use third-party keyboards on your iPhone or iPad
Are you still using iOS's built-in keyboard? It's easy to switch to a third-party keyboard that may better suit your needs. We'll show you how.
Setting up your new keyboard
Once you download and install your new keyboard, you'll have to tell iOS that you want to actually use it. To start, open the Settings app, tap General, then tap Keyboard. Tap Keyboards—it's the first item listed on the screen—then tap Add New Keyboard.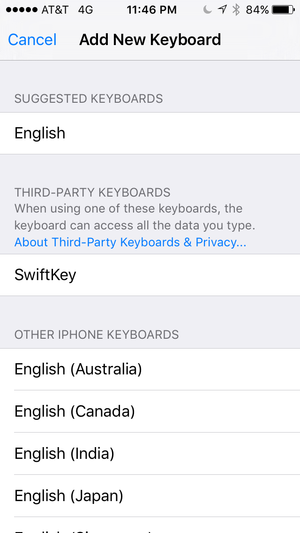 Once you install a new keyboard, activating it is just a few taps away in the Settings app.
You'll find your new keyboard under the Third-Party Keyboards sub-heading, but before you proceed, you should tap About Third-Party Keyboards & Privacy to learn more about the aforementioned privacy implications of using a new keyboard.
Now that you know what you're getting into, tap Done, and on the following screen, tap the name of the keyboard you just downloaded. Just like that, your new keyboard will be added to the list of installed and active keyboards on your device. Tap your newly installed keyboard's name to get at more options, including the aforementioned Full Access mode.
At this point, you may want to hop into the keyboard app itself to see if there are any additional configuration options. For instance, if you use SwiftKey, you can sign in to or create a SwiftKey account in order to get more features beyond the basic keyboard.
Using your new keyboard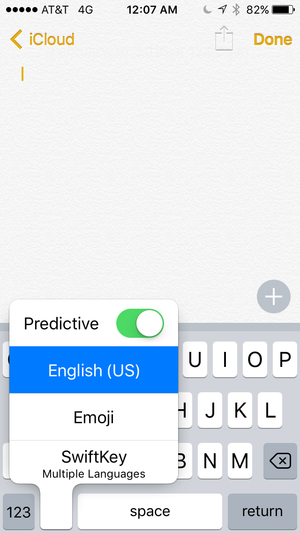 The keyboard picker menu lets you quickly and easily switch between keyboards you have installed.
Now that that's all out of the way, it's time to actually use your newly-installed keyboard. Open an app that accepts text input—like Notes—then bring up the keyboard. Tap and hold the Globe key until a keyboard picker menu pops up. Select the keyboard you just installed, then start typing. If you want to switch keyboards, you can do so at any time—just repeat this process and pick the keyboard you want to use.
Deactivating or deleting a keyboard
If you want to remove a keyboard from the keyboard picker menu, head back to Settings > General > Keyboard, then tap Keyboards. Tap the Edit button, then tap the red "minus sign" button. Tap Delete to confirm that you want to remove that keyboard from the keyboard picker.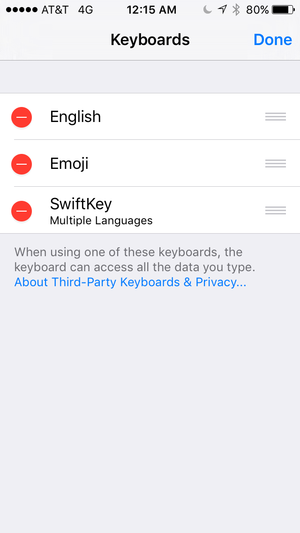 You can disable or re-enable any third-party keyboards you installed at any time.
Note that doing so doesn't actually delete the keyboard from your phone—you can always add it back to the list by tapping Add New Keyboard then picking the keyboard you want to use.
You can remove the default keyboard from the list if you never want to see it again, and you can rearrange the order in which keyboards appear in the picker menu. Once you're finished, tap Done.