How to record remote audio podcast interviews
With Skype and a $20 application you can record good-sounding remote interviews. Here's how.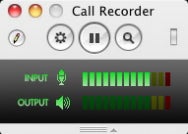 When you're ready to record the call, simply click the red Record button in the Call Recorder window. When you finish, click that same button, which now bears the Pause symbol.
By default, Call Recorder will save your call in a Saved Calls folder on the Desktop. Within that folder you'll see a .mov file that includes the name of the person you called along with the date and time—Joe Blow on 2011-05-22 at 11.57.mov, for example.
Step 4: Split the recording into two tracks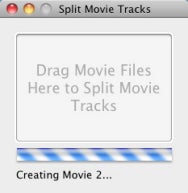 Although you could import this file into your audio editor, if you split the track into two separate tracks you can control the volume of each track. To do this, locate the Movie Tools folder that Call Recorder installed (found in /Applications). Open the Split Movie Tracks application and drag the .mov file you captured into it. The file will be split into two tracks—one containing your voice and the other having only the sound from the person (or people if you've recorded a conference call) on the other end of the line.
Step 5: Import tracks into audio editor
Add these two tracks to your audio editing application. If you're using GarageBand, just drag them into the application's main window. They'll be added at the same location and converted to AIFF files. Edit the podcast at will.
While interviewing subjects in person is always optimal—you have the benefit of body language and eye contact as visual cues on when to speak and how to interpret the conversation—recording a telephone interview remotely with Skype and Call Recorder gives listeners a high quality recording at a very low overhead.