HTC 10 review: It nails the fundamentals, but offers little innovation
HTC gets the basics right, but doesn't offer enough sizzle to justify the US$699 price.
The performance you expect
If you're shipping a high-end phone in 2016, it's got to have a Snapdragon 820, or at least something that performs like it. The HTC 10 has the chip you expect, as well as 4GB of RAM, 32GB of storage, and a microSD expansion slot.
In terms of performance, it blows the doors off the One M9, but that phone had problems with thermal management. More importantly, it's right in line with other Snapdragon 820-powered phones you'd buy this spring. The benchmark results are so close that the differences are immaterial. In practice, the phone flies: Every interaction is fast, scrolling is smooth, apps launch quickly, and there are no unwelcome stutters or hiccups.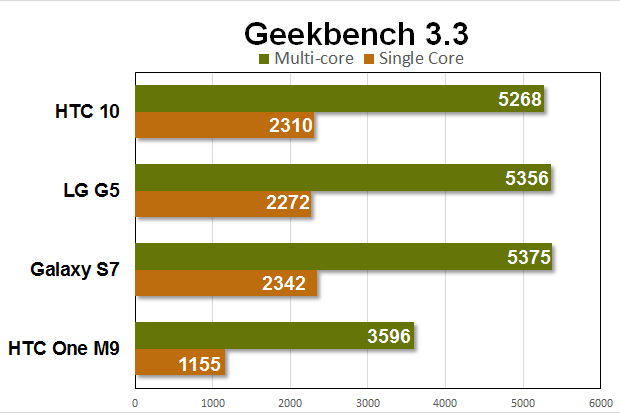 Performance is on par with other Snapdragon 820 powered phones. Which is to say, very fast. Click on image to enlarge.
Battery life is very good thanks to a fairly efficient processor and a 3,000mAh battery. In our battery benchmarks, it was on par with the LG G5 and a little behind the Galaxy S7, whose efficient AMOLED display sips a bit less power when calibrated to the 200 cd/m² brightness at which we test. During everyday use, the HTC 10 seemed quite similar to those two other phones, easily taking me through a full day of mixed use with about four hours of screen-on time (with auto-brightness enabled).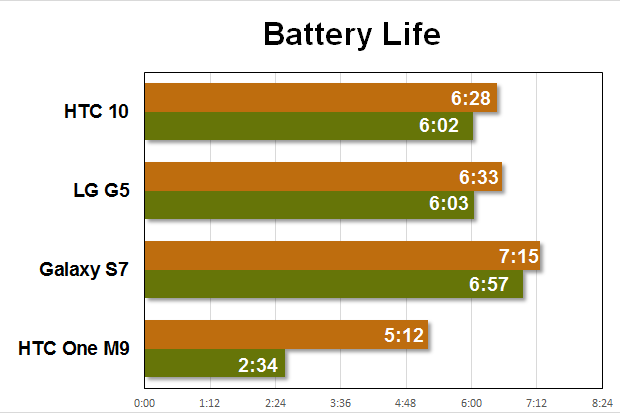 Battery life is good, and will take all but the most demanding users through a full day on a single charge. Click on image to enlarge.
Charging up is lightning fast. The HTC 10 has got a USB-C port, but doesn't use regular USB-C charging rates. That is, when attached to a power source like the Nexus 5X or 6P chargers, it charges at normal speed, not rapidly. The phone instead incorporates Qualcomm's Quick Charge 3.0 technology, and includes such a charger in the box. I went from 0 to 50% charged in just half an hour, with a full 100% charge taking roughly 1.5 hours.
Now this is a great camera
I'm not ready to proclaim the HTC 10 as the best camera of any Android phone. Not quite. but it is certainly among the best. The rear camera features a 12-megapixel sensor with 1.55 micron pixels (probably the same Sony IMX377 found in the Nexus 6P), with a super wide f/1.8 lens, laser autofocus, optical image stabilization (OIS), and two-tone LED flash. It takes 4K video and 120fps slo-mo video (sadly, there's no 240fps slo-mo mode). The results are fantastic.


The Galaxy S7's colors are a little more saturated, but the HTC 10's are a bit more true-to-life. Both deliver great depth of field. Credit: Jason Cross
Previous Page 1 2 3 4 5 Next Page