HTC 10 review: It nails the fundamentals, but offers little innovation
HTC gets the basics right, but doesn't offer enough sizzle to justify the US$699 price.
Low-light performance might be even better than what you'll find from the Galaxy S7. In many situations, you'd be hard-pressed to definitively say which phone took the better photo: the HTC 10 or Galaxy S7. In better light, the two are surprisingly comparable. But HTC's camera seems to handle challenging lighting situations a bit better. It appears that the depth of field is a teeny bit shallower on the HTC 10 (probably due to a slightly larger sensor size) and the white balance is a touch warmer.


You try taking a picture of a black cat in poor indoor light. The HTC 10's white balance is a touch warmer, and the fur is better exposed. Credit: Jason Cross
When it comes to software, HTC's camera app is eminently usable. It's simple and clear, with only a few common controls visible. The app launches fast, and shutter lag is minimal, so you can go from pocket to photo fast enough not to miss a great moment. If you want more control, the Pro mode lets you adjust exposure, ISO, shutter speed (up to 2 seconds maximum), focus, and white balance. You can save the photo in RAW format, too.


I know which phone I'd rather use to ruin my romantic dinner by taking pictures of my food. Credit: Jason Cross
The front camera is "only" 5 megapixels, but it also features a wide f/1.8 aperture, and even OIS—a first on smartphones. The bottom line is that HTC nailed it with the camera on the 10. It takes fantastic photos and videos simply, quickly, and easily.
Bring out the Boom
Ever since the original HTC One gave us dramatically better audio quality under the BoomSound brand, the company has packed its premium phones with impressive stereo speakers. The 10 is no exception, even if the configuration is a little weird. The speakers are asymmetrical: The bottom-firing speaker acts as a "woofer" focusing on the low end of the audio spectrum, while the speaker in the earpiece faces forward and acts as a "tweeter," reaching into the high frequencies. Each speaker is amplified separately.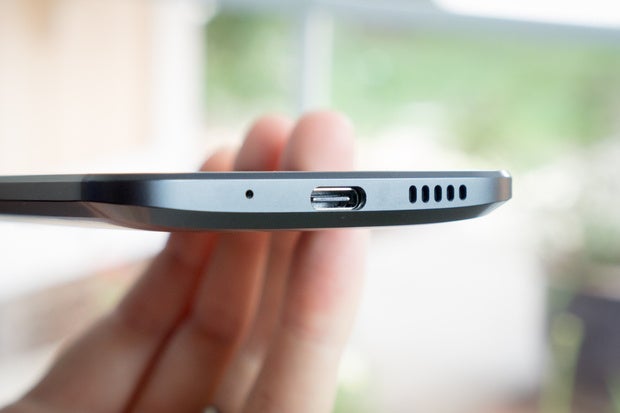 Having one down-firing speaker and one front-firing speaker is a little weird. Credit: Jason Cross
Add in a little Dolby audio enhancement, and you get a really good-sounding phone. Of course, a little smartphone is never going to pump out sound equivalent to even a small Bluetooth speaker, but as phones go, the audio is impressive.
Plug in headphones and you can step through an audio profiling setup process that essentially works like an equalizer, adjusting the sound output to match the frequency response of your headphones (and hearing).
Previous Page 1 2 3 4 5 Next Page