HTC 10 review: It nails the fundamentals, but offers little innovation
HTC gets the basics right, but doesn't offer enough sizzle to justify the US$699 price.
Using the HTC 10 is a delight. If you're used to stock Android, you'll feel right at home. Most of the changes are sensible and minimal. I wouldn't want HTC to forsake useful gestures like double-tap to wake, for instance. Outside of wanting Google Now in place of Blinkfeed, I never felt the urge to switch to the Google launcher. I can't say that about most other high-end Android phones.
The ability to extensively theme your phone is my favorite feature in the One M9, and it's back with the 10. In fact, it's better than ever. You can install existing themes, and new "Freestyle layouts" let you put apps anywhere instead of sticking to a 4x5 grid. You can also link "stickers" to apps to avoid using icons altogether. It's the most polished theming experience to ship with any major Android phone, and it's a lot of fun.
A killer $500 phone that costs $700
HTC dropped the "One and "M" from the HTC 10's name. It's a perfect analog to the company's thinking about this phone. Where other manufacturers pile on features and proprietary gimmicks, HTC cuts away unnecessary flotsam. Where competitors try to do everything all at once, HTC focuses on what's most important: design, performance, imaging, and audio. Other manufacturers duplicate Google services and software, HTC got rid of many of its own proprietary apps.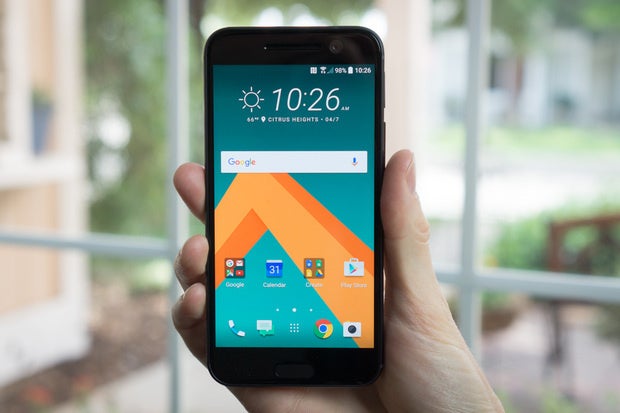 It's hard to justify this phone's $700 asking price. If it's steeply discounted, snap it up. Credit: Jason Cross
It's not as if this is a Nexus phone. But it's about as close as you're likely to see from a major top-tier Android manufacturer. Frankly, as much as I like stock Android, I'm thankful for HTC's themes and camera app.
Now, all that said, as much as I like the HTC 10's "less is more" approach, I still feel like something's missing. This isn't a $500 phone; HTC has priced it at $699. For that kind of money, I expect a little more innovation. I expect waterproofing, or fast wireless charging, or an always-on display, or built-in Twitch game streaming, or side benefits like the Oculus/GearVR partnership for premium Samsung phones.
If this phone cost what a Nexus 6P does, I would recommend it to everyone. I could then clearly say that this phone's benefits offset the always-up-to-date Android software you get with the Nexus phone. But this phone doesn't cost what the Nexus 6P does. It costs a whopping $200 more. HTC's got a killer $500 phone here, and they're shooting themselves in the foot by asking $700 for it.
Previous Page 1 2 3 4 5