iPad Pro FAQ: Everything you need to know about Apple's 12.9-inch mega tablet
The iPad Pro was built with serious productivity in mind. Meet the most powerful iOS device ever.
Ok, so it's bigger and louder, but is it faster than previous iPad models?
The iPad Pro boasts Apple's new A9X chip, which has twice the memory and is 1.8x faster than the A8X chip in the iPad Air 2. Apple calls this "desktop-class performance," so you'll be able to do things on the iPad Pro that you previously reserved for your Mac.
Additionally, Apple has updated the storage controller so you can quickly open large files, like 4K video, hi-res photos from your DSLR, or that seemingly endless PowerPoint presentation your boss wants you to edit.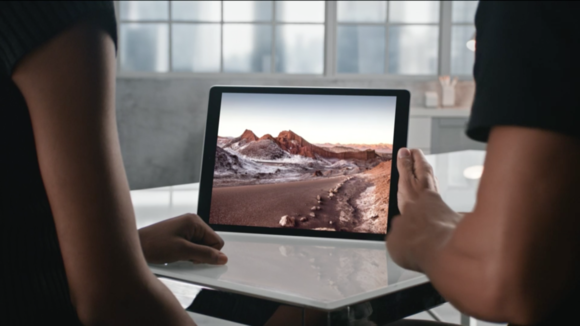 Let me get this straight: higher resolution, better graphics performance, faster CPU... will all this drain the battery life in no time?
Not necessarily. Apple claims that the iPad Pro boasts 10 hours of battery life (9 hours if using cellular), just the same as the iPad Air 2.
I bet it's thicker and heavier then...
Ok, yes. The iPad Pro is a bit thicker and heavier than its previous Air 2 counterpart. But not significantly considering all the improvements. The Pro is 6.9 mm thick (the Air 2 is 6.1 mm), and it weighs 1.57 pounds (the Air 2 weighs 0.96 pounds).
Did the Pro keep any features or specs from the Air 2?
It kept plenty: Multi-Touch display, 8-megapixel iSight camera, 1080 HD video recording capabilities, 802.11ac Wi-Fi technology with MIMO, Touch ID, LTE and Apple SIM.
Please note that 3D Touch, just introduced in the new iPhone 6s and 6s Plus, is not available on iPad Pro.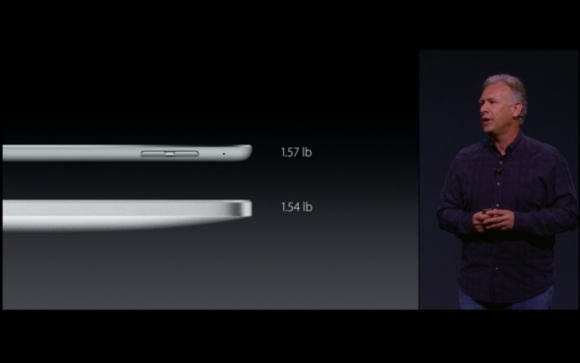 iPad Pro weight (top) vs. original iPad weight (bottom)
Multitasking features in iOS 9
Are there any new QuickType shortcuts?
iOS 9 introduces formatting buttons to the QuickType bar so that you can italicize, copy/paste or add attachments with just a tap. Another cool way to select and edit iPad text on iOS 9 is to simply place two fingers on the touchscreen. This turns the screen into a trackpad that you can use to select text by dragging. Furthermore, third-party apps can customize the shortcuts that appear on the QuickType toolbar, so that you can have all the important buttons right at your fingertips.
I heard I can now have two apps open at the same time. How does that work?
There are three ways to view and interact with two apps simultaneously on an iPad Pro in iOS 9. First, we have Slide Over, where you can choose a second app to open up as a pinned sidebar on the right. Second, there's Split View, where two apps take up half of the screen. Finally, Picture-in-Picture lets you watch a video or chat on FaceTime while having another app running in the background. The video screen becomes a smaller window that you can drag and resize.