iPhone 6s and 6s Plus FAQ: The complete guide to Apple's new phones
We sifted through all the information on the new iPhones to help you decide whether to buy or pass.
Apple's new iPhones aren't available to pre-order until Sept. 12 and don't go on sale until Sept. 25—which means you still have time to think about upgrading. To help you make an informed decision, here's all the critical information we learned today about the iPhone 6s and 6s Plus. And if you have any questions we didn't answer, let us know in the comments below.
The basics
When can I get the new iPhones? The two phones will be available for pre-order on Saturday, Sept. 12 and will go on sale Sept. 25 in 12 countries: the U.S., United Kingdom, Australia, Canada, China, France, Germany, Hong Kong, Japan, New Zealand, Puerto Rico, and Singapore. More than 130 countries and 400-plus carriers will have the iPhone 6s and 6s Plus by the end of the year.
OK, so what time exactly can I pre-order a phone? Set an alarm, because iPhone 6s and 6s Plus pre-orders kick off at 12:01 a.m. Pacific on Saturday, Sept. 12. That means 3:01 a.m. for you East Coasters. At least you might not have to work the next day.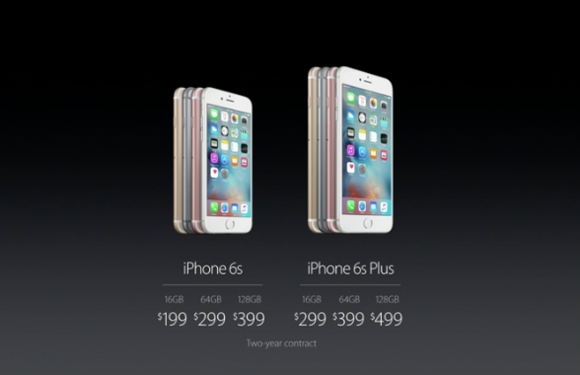 How much do the new phones cost? If you're signing a new two-year contract with your carrier when you buy your 6s or 6s Plus, the prices are as follows for a 6s: $199 up-front for a 16GB, $299 for a 64GB, or $399 for a 128GB. Add an extra $100 for the 6s Plus: $299 up-front for 16GB, $399 for 64GB, or $499 for a 128GB.
But two-year contracts are on the way out. So what does that mean for iPhone pricing? You can buy an unsubsidized iPhone 6s starting at $649 for the 16GB version and a 6s Plus from $749—add an extra $100 for each larger storage size. You can also spread out those payments with a carrier installment plan, the cost of which depends on which plan you choose, but starts at $27 per month for a 6s and $31 a month for the 6s Plus in the U.S.
And for the first time, Apple is offering its own upgrade program. You can buy an unlocked iPhone 6s with AppleCare+ from an Apple Store and choose your own carrier. Monthly payments start at $32 in the U.S. for a 6s, and $37 for a 6s Plus, and you'll have the option to upgrade to a new iPhone after a year. If you're planning to buy an iPhone through Apple's upgrade program, you can make a reservation online at 12:01 am Pacific/3:01 am Eastern to buy in-store and receive help from Apple employees. More information about the iPhone Upgrade Program is available here.