iPhone 6s and 6s Plus FAQ: The complete guide to Apple's new phones
We sifted through all the information on the new iPhones to help you decide whether to buy or pass.
How do the internals compare? The new iPhones ship with Apple's new A9 processor, a 64-bit chip embedded with the M9 motion coprocessor. The M9 makes it possible for your iPhone to track your fitness with an accelerometer, gyroscope, barometer, and compass, and also supports the ability for Siri to remain always on. Just say, "Hey Siri" to summon her without needing to press the home button or plug your phone into a power source. The M9 will also add running and walking pace-tracking to the iPhone 6s and 6s Plus.
Embedding the coprocessor directly into the chip increases battery life, Apple says.
Do the new phones have better cameras? Do they ever. The iSight camera (the rear-facing one) now takes 12-megapixel images, a huge jump of the previous generation's 8-megapixel camera. Apple also added a new sensor, image signal processor, and improved optical image stabilization for the highest-quality photos the iPhone has ever taken.
The new iPhones take advantage of the overhauled camera system with a new feature called Live Photos. When you take a photo using the 6s or 6s Plus, the camera will capture the moments just before and right after the still is taken. With a press on the photo, you can watch the scene come to life instead of just staring at a static image. You can even make those Live Photos your iPhone wallpaper or your Apple Watch face.
That's not all. The 6s and 6s Plus now support 4K video-recording in 3840x2160 resolution at 30 fps. That's four times higher than the 6 and 6 Plus. Apple also added optical image stabilization to the 6s Plus camera for video, too.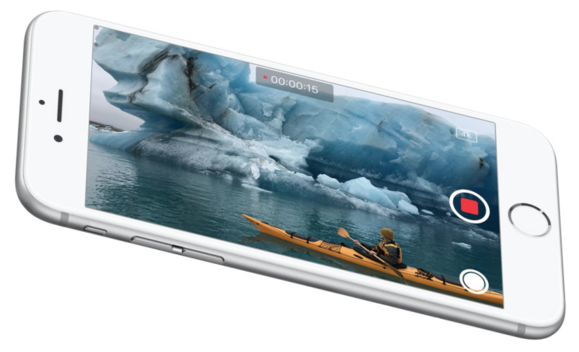 Apple
The new iPhones also get an upgraded FaceTime camera that shoots 5-megapixel photos with Retina Flash, a new feature that makes your display flash three times brighter for low-light selfies.
So Live Photos can live on my lock screen. What about animated ones? The stunning animated watch faces that we first saw on Apple Watch are now coming to the iPhone with dynamic wallpapers in iOS 9. You can watch koi float effortlessly on your lock screen, or a smokey blue plume of smoke undulate. It's a small feature, but an impressive one that showcases the iPhone's gorgeous graphics.
Any changes to wireless capabilities? The new iPhones support up to 23 LTE bands so your phone is just as fast when you're traveling.
Stay tuned for way more information as we go hands-on with both devices. In the meantime, shoot us some questions in the comments.
Previous Page 1 2 3