iPhone 6s and 6s Plus review: The best iPhone ever, by a wide margin
"The only thing that's changed is everything," says the slogan Apple unveiled along side the iPhone 6s and iPhone 6s Plus.
Yet, I've seen people online who are convinced that their iPhone 6S units are less slick than their old phones. I've handled a bunch of iPhone 6S models now, and one of them—a 6S in the new Rose Gold color variant, which is pleasantly pink—did indeed feel noticeably tackier to the touch. But I've got a silver 6S Plus and a space gray 6S here that feel exactly as slick as last year's models. It's not the colors themselves—I heard from someone who is convinced their space gray 6S isn't as slippery.
What's happening here? Part of it could be a placebo effect, but my guess is that some change in Apple's production process-either the manufacture of the aluminum itself or, more likely, the anodization process that each aluminum backplate undergoes—has introduced some variation in the texture of the iPhone's surface. So if you buy an iPhone 6S, might it be a little bit easier to grip than the iPhone 6? It's possible, but I sure wouldn't count on it.
A touch screen with dimension
The banner feature of the iPhone 6s and iPhone 6s Plus has got to be 3D Touch, which allows the iPhone to sense how much pressure you're putting on its screen, and react to that in some interesting ways.
If you're on the home screen and push a little extra harder on an app icon, you'll usually (apps have to be updated to support this feature) see a menu of up to four Quick Actions. As the menu pops up, you'll also feel a slight vibration coming from the phone's Taptic Engine, which can create much more subtle vibration patterns than previous iPhones. In fact, if you push on an app that doesn't offer Quick Actions, you'll feel a longer triple-vibration pattern that indicates that there's nothing to see.
Apple has done a great job integrating haptic feedback into 3D Touch, and the combination of your own sense of pressure on your fingertips and the vibration of the Taptic Engine is greater than the sum of its parts. Because the vibrations provide instant feedback about how hard to push in order to trigger 3D Touch, I never really had a problem triggering the feature accidentally.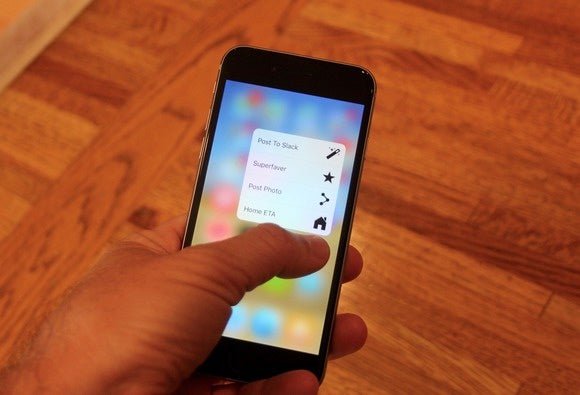 Perform a 3D Touch on an app icon and a pop-up menu appears with tasks you can perform. Credit: Jason Snell
The items in Quick Actions menus are essentially links to different features or areas of the app whose icon you're touching, allowing you to open the app and jump quickly to a specific area. For example, rather than opening the Camera app, tapping the icon to switch from the iSight camera to the FaceTime camera, and potentially swiping to get the app into Photo mode, you can just choose Take Selfie from the Quick Action menu. The Camera app opens, automatically switches to Photo mode, and changes to the FaceTime camera
Previous Page 1 2 3 4 5 6 7 Next Page