iPhone 6s and 6s Plus review: The best iPhone ever, by a wide margin
"The only thing that's changed is everything," says the slogan Apple unveiled along side the iPhone 6s and iPhone 6s Plus.
In addition to processor power, these new iPhones offer boosted RAM—with 2GB of memory, twice as much as in older iPhones. As I wrote in my review of the iPad Air 2 (the first iOS device with 2GB of RAM): "While the effects are subtle, they're profound. Safari tabs just stay loaded most of the time. Apps that you used recently-ish snap open immediately rather than doing a bunch of housekeeping. Switching directly between apps feels vastly better, because it's all instantaneous. More RAM lets the entire system breathe." Everyone who switches between apps or between pages in Safari will benefit from that increase in RAM, even if they don't have any idea why everything seems more instantaneous than on their old iPhones.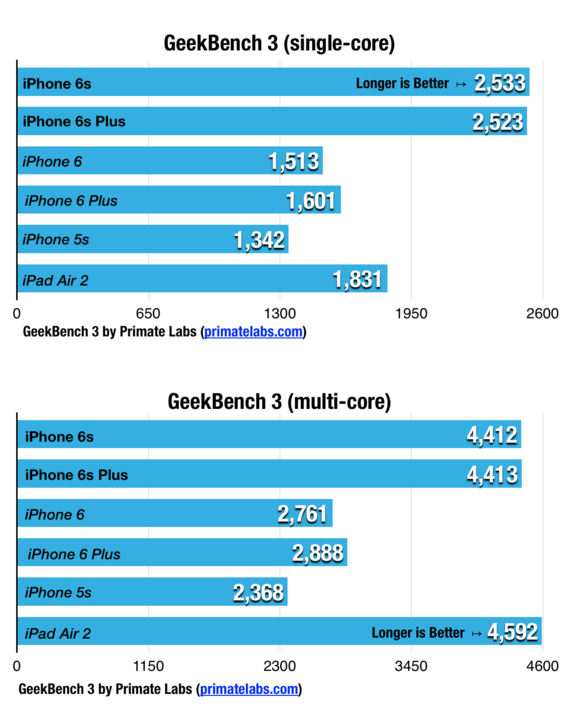 Click on image to enlarge. Credit: Jason Snell
Apple claims that battery life on the iPhone 6s and iPhone 6s Plus is more or less the same as on previous models, but there's a catch—the introduction of the Taptic Engine actually required Apple to reduce the size of the iPhones' batteries, so they hold less capacity than the iPhone 6 models. However, iOS 9 was tweaked to extend battery life on all iOS devices, and presumably Apple is factoring those improvements (as well as possible increases in battery savings from updated internals) into its battery estimates.
I wasn't able to test battery life in time for this review, but based on Apple's statements I wouldn't expect the iPhone 6s models to be any better at battery life than the iPhone 6, and in fact I'd probably expect them to be a little bit worse than a new iPhone 6 running iOS 9. Apple continues to balance the thinness and weight of their devices with battery life, shooting for a target battery life that it feels is sufficient. Yes, you can stick a battery case on your phone if you need more battery life, or carry a little external battery with you, but my gut feeling is that iPhone battery life should be getting better, and it just isn't. Until Apple decides that the base battery life of an iPhone needs to be more than it is today, if you need extended life you should opt for the iPhone 6s Plus—which provides a couple of hours' worth of life beyond what the iPhone 6s can manage—or invest in an external battery pack of some kind.
You probably won't see any benchmark charts about it, but Touch ID on the iPhone 6s is much faster than it was on the iPhone 5s and iPhone 6. When I put my finger on the home button, I can barely see the lock screen—in a fraction of a second, Touch ID has recognized my finger and unlocked my phone. Yes, we're talking a very small amount of time saved, but over the course of a day those fractions can add up. I also found that the home buttons on the iPhone 6s felt and sounded noticeably more clicky than those on the iPhone 6.
Previous Page 1 2 3 4 5 6 7 Next Page