iPhone 8 rumors: New evidence points to wireless charging and waterproof specs really happening
Rumors are already swirling about the "revolutionary" 2017 iPhone. Here's all the latest.
These iPhone 8 renderings seem to be inspired by a recent leak of internal schematics that surfaced on SlashLeaks. Those schematics also included a facial recognition front-facing camera, an infrared sensor, a stacked mainboard design, and two battery units.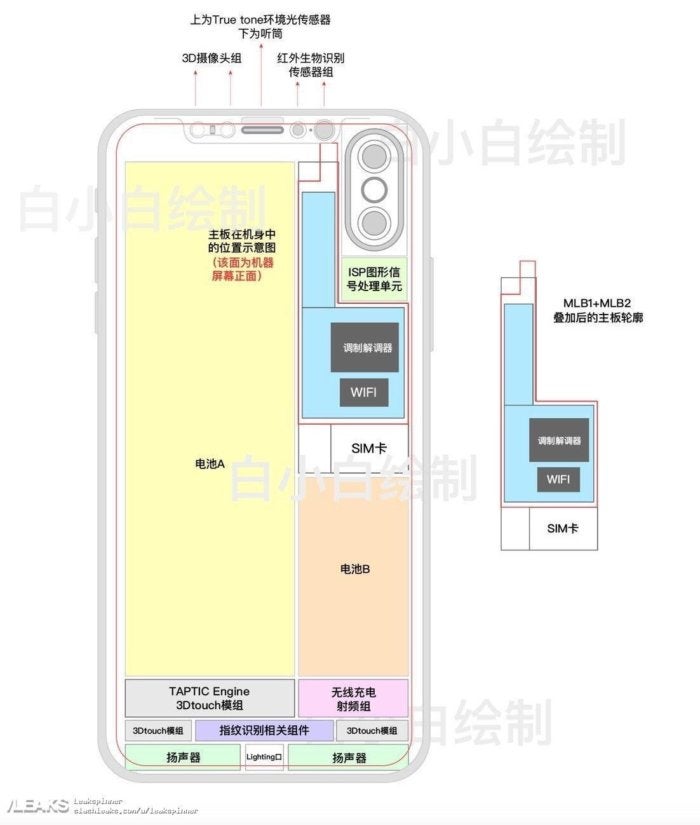 SlashLeaks
Plausible? Certainly! The iPhone 8 is rumored to have an extensive feature list, so even if not all of them are true, a stacked mainboard design would not only be plausible but necessary. And we're crossing our fingers still for a Touch ID sensor that's not on the back of the device, so these schematics make us happy for that reason, as well.
Touch ID on the back?
The rumor: Apple might move one of its essential features, Touch ID, to the back of the iPhone 8. According to Pacific Crest Securities analyst Andy Hargreaves, Apple is having technical issues integrating the Touch ID sensor right on the display of the new virtual Home button. Apple might forced to delay the production of the iPhone 8 in order to fix the issue. Another possibility, according to Cowen and Company analyst Timothy Arcuri, is that Apple will resort to placing the Touch ID sensors on the back, similar to the new Galaxy S8 and the Pixel phones by Google. According to Bloomberg, Apple has prototyped a version with Touch ID on the back of the device, which leaker Sonny Dickson shared a photo of on Twitter.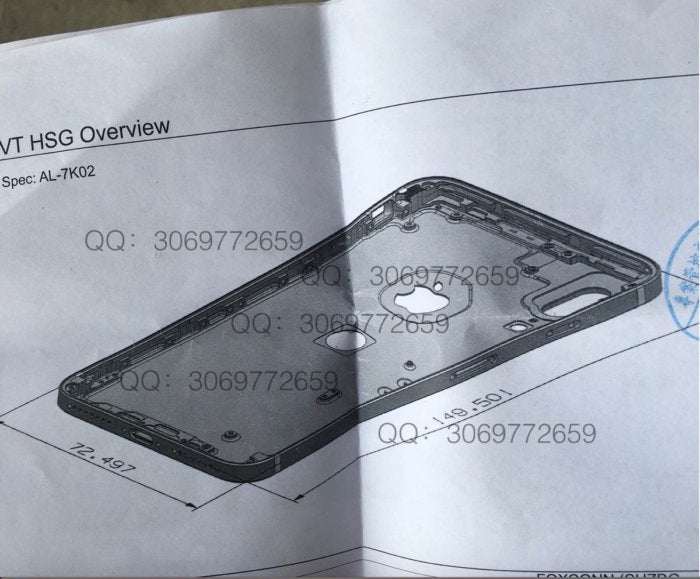 Sonny Dickson .This design overview purportedly shows an iPhone 8 prototype. Notice the fingerprint-sized cut-out on the back.
Plausible? Although we previously have heard rumblings about a delay, it's very unlikely for Apple not to have all the features set at this point. Touch ID is such an important part for enabling Apple Pay that it's hard to imagine a highly-anticipated iPhone 8 without it. And moving Touch ID to the back of the device is not very intuitive if you want to unlock your iPhone with your thumb or while it's laying down flat. It's a design flaw we hope Apple doesn't succumb to, but if we have to choose between Touch ID on the back or no Touch ID at all...we'll begrudgingly accept the former.
Another potential reason for a fingertip-sized cut-out on the back of the iPhone casing is wireless charging, which is a rumor we've been hearing over and over again. But if Samsung couldn't manage to put a fingerprint sensor in the Galaxy S8 due to technical issues, Apple might have a serious problem.
Previous Page 1 2 3 4 5 6 7 8 9 10 11 12 Next Page