iPhone 8 rumors: New evidence points to wireless charging and waterproof specs really happening
Rumors are already swirling about the "revolutionary" 2017 iPhone. Here's all the latest.
More expensive 3D Touch sensor?
The rumor: The 3D Touch module on the forthcoming iPhone 8 with OLED display will cost $15 to manufacture, at least if you believe Digitimes, a 60 percent increase in cost. Previously, the 3D Touch sensor on the iPhone 7 cost closer to $9 to manufacture. This implies that Apple will have to mark up the price of the iPhone 8 in order to keep its typically high margins. The more-expensive 3D Touch module consists of a thin film touch sensor that will be overlaid onto the new AMOLED display. However, the report also mentions that TPK Holdings, the AMOLED display supplier, won't supply the displays until the fourth quarter, corroborating earlier rumors that the iPhone 8 will be launched later than September.
Plausible? Digitimes is not the most reliable sources when it comes to new iPhones, but even if the details are a little shaky, the implication that the iPhone 8 will be more expensive is spot-on. Besides the new 3D Touch module, the iPhone 8's rumored OLED display, virtual Home button, and 3D camera all point to a higher price tag. Could it cost over $1,000? Certainly the 256GB model might—especially considering the fact that the iPhone 7 Plus with 256GB went on sale for $979.
Is this what it could look like?
The rumor: We've all heard the rumors of an edge-to-edge OLED display (scroll down if you need to catch up), and now it's easier to imagine what that would look like. Working off a report from Nikkei Asian Review, Benjamin Geskin created new renders for iDrop News. Click through to see more, showing what the phone would look like if the most popular rumors all come true. You'll notice the top "forehead" is shorter, the bottom "chin" is nearly gone, the Home button's fingerprint sensor is now embedded into the screen, and the screen stretches to the very side edges.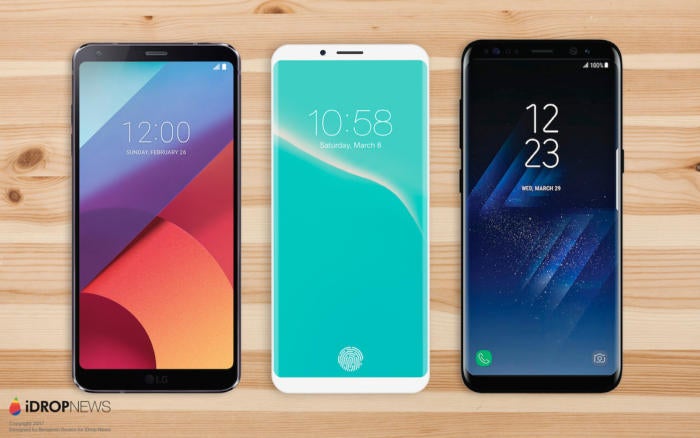 Benjamin Geskin for iDropNews
Plausible? Renders can be hit or miss, but this seems like a very plausible design, if the edge-to-edge rumor is true. Still, the final look reminds us a little bit of the Samsung Galaxy lineup! What we really can't wait to find out is if Apple uses special materials for a high-end iPhone Edition, like it did with the Apple Watch Edition, and also what colors the new iPhone will sport.
Could it be USB-C?
The rumor: Each new report about the iPhone 8's features reinforces the ones before it, but the latest rumor from the Wall Street Journal is one we haven't heard before. The WSJ says Apple will replace the iPhone Lightning port with a USB-C connector.
Previous Page 1 2 3 4 5 6 7 8 9 10 11 12 Next Page