iPhone owners rip Apple over botched iOS update
Some demand compensation for the update that barred them from using their iPhones as, well, a phone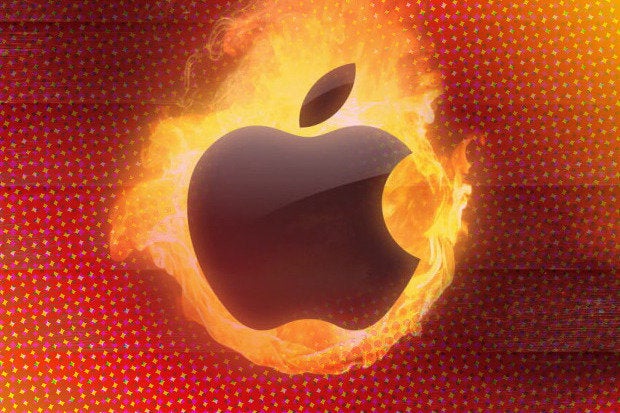 iPhone owners are angry. Really really angry.
"In my 25 years of using Apple products I have never experienced such a complete lack of attention to detail from them," said someone identified only as Dillinger in one of several hundred messages on an Apple support discussion thread.
Dillinger and the others vented their spleens yesterday and today about the iOS 8.0.1. fiasco, when Apple issued its first update to iOS 8, the mobile operating system that launched last week and was pre-installed on all new iPhone 6 and iPhone 6 Plus smartphones.
The 8.0.1 update had unintended consequences: It crippled those new iPhones by preventing them from connecting to their carriers' cellular networks.
Within 90 minutes, Apple pulled the update from its servers. But that was too late for a lot of iPhone 6 and 6 Plus owners. And some of them were furious.
"This is so ridiculous. I will never buy another Apple product," swore christian0415 yesterday.
"My shiny new iPhone 6 was essentially turned into a very expensive i[Pod] Touch today. Apple FAILED today. Miserably," added andyfromcordova.
"The most egregious part of this is the fact that Apple clearly hasn't tested any of this!" bemoaned Jonquillo. "What are they doing down in Cupertino? Cashing in their stock options?"
Today, Apple advised customers with no-cell-service iPhones to roll back their devices to iOS 8.0 and provided the restoration files to do so, an unprecedented step for the company, which usually makes it impossible to revert to an older edition.
Numerous users reported on the discussion thread -- which had been viewed more than 12,000 times by Thursday morning -- that they had successfully restored phone service to their iPhones using the technique.
That wasn't enough for others, however. Some on the thread wanted compensation from Apple for their trouble, some wanted a more explicit apology from Apple, specifically from CEO Tim Cook.
"Surely this merits one of those apology letters Apple did with the new Maps at the very least," argued Otis Taylor.
"It not only merits a letter of apology but it merits Tim Cook to put up a video message on the home page both apologizing and promising to do right by us," added rickwla1. "I've suggested to Apple Support that that 'do right' should be free Apple Care for all who installed 8.0.1. This is a major problem to not have phone service for going on 7 hours now and no estimate of how much longer it will take to fix. With Steve Jobs, heads would have rolled."
People like rickwla1 and others who mentioned Jobs were certainly remembering past blunders by the company, including 2010's "Antennagate" and 2008's bungled launch of MobileMe, the forerunner to iCloud. In the former, Jobs begrudgingly offered customers free "bumpers," plastic wrap-arounds for the iPhone, while heads did roll over the latter.