Is the iPhone SE a cheap cannibal of Apple's higher-end phones?
Examining previous phone upgrades, it's clear the iPhone SE fits Apple's previous pricing patterns.
The iPhone is arguably exactly the same price in the year-over-year ratcheting, given that its release with only six months into the iPhone flagship cycle, and thus dropping $50 instead of a full $100.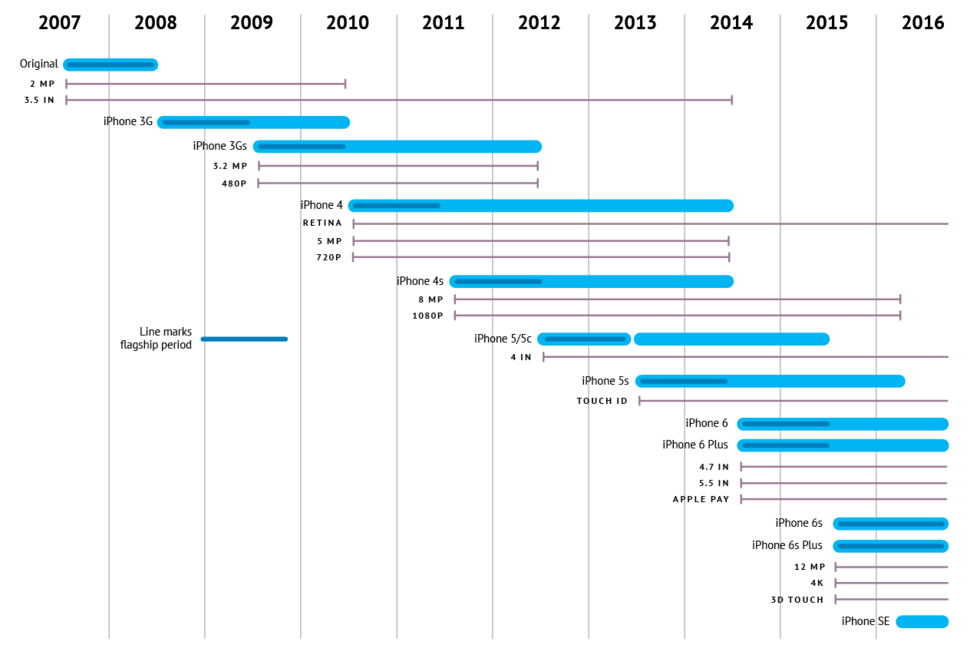 As features are added, Apple shifts the current mix of phones forward to have an ecosystem with common options, whether a Retina display, Touch ID, or Apple Pay. 3D Touch is the only exception so far. (Click to enlarge.)
However, the iPhone 5s gained several 6 and 6s series hardware options—processor, the improved camera, Apple Pay, and 4K video—but not 3D Touch, making it a fairly remarkable bargain coming just six months and 18 months after various of those features appeared in the larger models. It should be much less expensive to make the iPhone SE in materials consumed and perfecting the manufacturing process, which lets Apple keep its accustomed margin, too.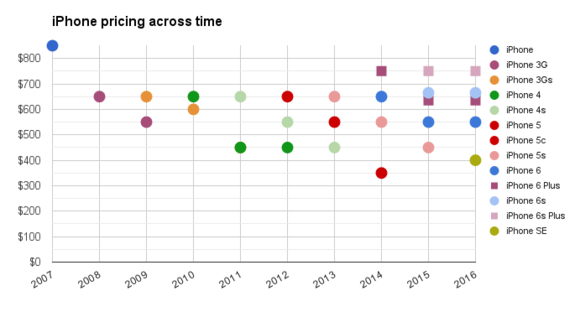 Apple's pricing ratchets for models in the years following introduction follows a very consistent pattern. (Click to enlarge.)
The chart shows the price for the 16GB model of each iPhone, except when only an 8GB model was available; the original iPhone initially came in a 4GB model, which I exclude for comparison. Phones with 8GB include the original iPhone and iPhone 3G, and the only model for sale in the third year of availability for the iPhone 3Gs, 4, 4s, and 5/5c. The original iPhone and the 3G and 3Gs are shown with $450 added to the contract price to normalize pricing with the full unlocked cost of later models.
The Watch pricing, even without a new model (and rumors that one isn't coming until the end of 2016), fits with the same strategy. It sets an implicit, not-quite-acknowledged expectation among buyers that there won't be a sudden drop in price, making them have remorse for a purchase, nor a radical increase. They know that if they wait long enough to purchase something new, aging tech will remain supported and cheaper and newer tech will cost almost exactly the same as they paid at the same point in the product cycle. Consistency reduces customer purchase anxiety.
This approach would seem to argue against cannibalization, and rather towards something more complicated.
Completing an ecosystem
The iPhone SE's pricing, introduction date, and features reinforce the idea that Apple wants a well-rounded ecosystem that stretches beyond phone dimensions. In the timeline earlier in this article, I included just a few significant specs, such as video-capture resolution, device size, and Touch ID. Once Apple adopts a feature aside from dimensions, it slips into every iPhone, providing a grouping that grew from two models for sale at one time to what's now five models. This appears to be a template for the future.