Lenovo and Google announce plans for first consumer Project Tango phone by this summer
First Project Tango phone will be smaller than 6.5 inches, cost less than US$500 and feature multiple cameras.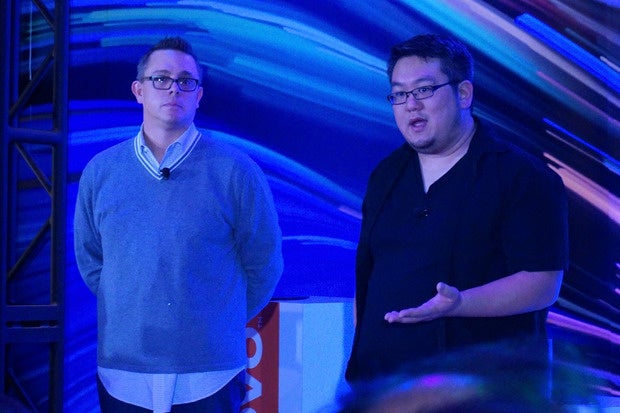 Google's Johnny Lee and Lenovo's Jeff Meredith announce plans for the first Project Tango phone by the summer of 2016 for less than $500. Credit: Gordon Mah Ung
Google and Lenovo announced plans Thursday night in Las Vegas for the first Project Tango phone to be released this summer for less than $500.
Project Tango is Google's vision to bring augmented reality to phones by enabling devices to be able to sense where they are and what is around them. During the announcement, Google's Johnny Lee demonstrated measuring a room using a prototype Project Tango tablet and then shopping at Lowes for furniture that would fit it.
Lee also showed off a Project Tango app augmented reality virtual cat and dog roaming the room too.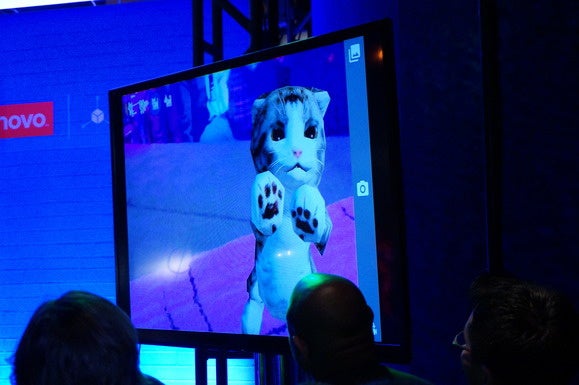 One application Google demonstrated on Thursday was a virtual pet that roamed a room on the screen of the company's Project Tango prototype tablet. Credit: Gordon Mah Ung
Lenovo was sparse on details but said it would integrate a fisheye, an RGB, and depth sensing camera into the phone to enable the ability for its phone to sense its surroundings. The industrial design of the Lenovo Project Tango-enabled phone hasn't been set but Lenovo's Jeff Meredith said it would be no bigger than 6.5-inches. Meredith also said it would be launched worldwide this "summer" and be powered by an Qualcomm Snapdragon processors.
Google's Lee also announced an app incubator program and invited people to submit ideas. Showing the urgency of Google's Project Tango though, ideas would only be accepted until Feb. 15, 2016.
That's likely to insure there's software to actually make the Lenovo Project Tango phone useful when released just months later.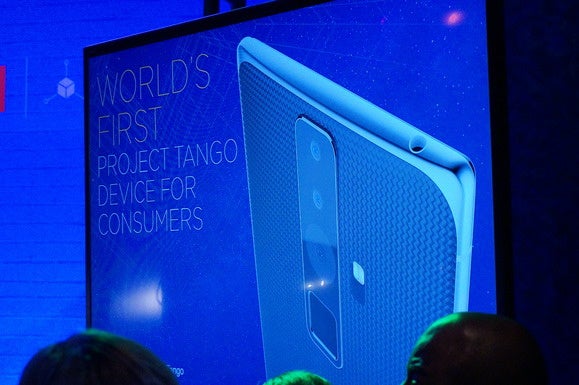 Lenovo says the first Project Tango phone wil be smaller than 6.5 inches and could look like this. Credit: Gordon Mah Ung