Lenovo Yoga 900 review: What this laptop gives up in size, it gains in power
A larger battery, beefier CPU, and other goodies let it run longer and faster.
Unlike its predecessor, the Yoga 900's isn't trying to be the slimmest reversible laptop around. It's 18 percent thicker than the Yoga 3 Pro to accommodate a more powerful Intel Core i5 or i7 processor—the Pro used a Core M chip—and the larger battery and additional cooling it requires. That means considerably better performance and a longer runtime. Those are improvements that no one will complain about, unless they prefer a skinny machine.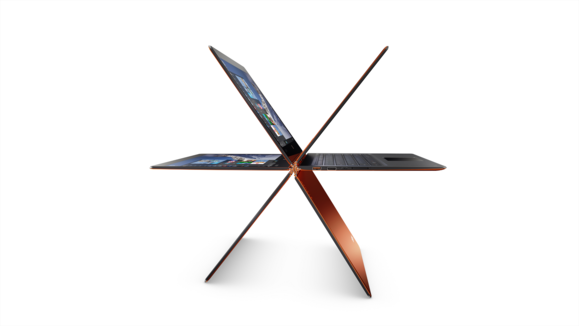 The Yoga 900 starts at $1,150 and is available from Best Buy and Lenovo. Credit: Lenovo
Thin to win
That said, Lenovo claims that the Yoga 900 is the thinnest Core laptop on the market. That may well be, but at 0.59 inches thick and 2.8 pounds, it's still bigger than the older 0.5-inch, 2.6-pound Yoga 3 Pro. However, with its slightly reduced depth (8.86 inches versus 9 inches) and width (12.75 inches versus 13 inches), the Yoga 900 has crossed over into looking somewhat generic due to its squatter profile.


While an 18-percent increase sounds like a lot, the extra thickness isn't all that much. Credit: Lenovo
But though I prefer the look of the Yoga 3 Pro, the Yoga 900 is an attractive laptop, especially since it also boasts the Yoga line's fancy watchband hinge. It's too bad that motif isn't applied subtly to the rest of the laptop, but if you want to turn heads, you can always opt for the Clementine Orange color.


The now famous watchband hinge on the Clementine Orange model Yoga 900. Credit: Lenovo
Details, details...
The Yoga 900 is a fully reversible laptop with a 13.3-inch, 3200x1800 IPS touchscreen display. Its picture is great under most circumstances, especially playing movies in low-light conditions, and has a decent amount of brightness. On the minus side, the screen reflects quite a bit of light, and it has a rather healthy amount of bezel. It's hard not to want something sleeker after the example set by Dell's XPS 13.
The port selection on the Yoga 900 is minimal but adequate for everyday use. You get two USB 3.0 Type A ports, a USB 2.0 charging port, an SD/MMC card reader, combo analog audio jack, and a USB Type C port. That Type C gives you standard USB 3.0 (5Gbps) speeds. It doesn't support Thunderbolt 3, nor charging. You don't get a dedicated video-out port, but the Type-C port provides DisplayPort over USB if you use an optional dongle.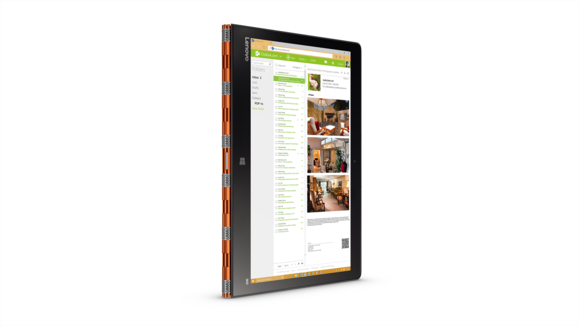 The Yoga 900 in tablet mode. Credit: Lenovo