Lenovo Yoga 900 review: What this laptop gives up in size, it gains in power
A larger battery, beefier CPU, and other goodies let it run longer and faster.
The Yoga 900 is available with an Intel Core i7-6500U CPU, a 256GB or 512GB SSD, and up to 16GB of DDR3-1600 memory. All versions come with 802.11ac Wi-Fi and Bluetooth 4.0. Our $1,400 model had its specs maxed out, while the minimal Core i7 configuration runs $1,150.
Performance
With a faster CPU, it was no surprise that our Yoga 900 zipped past its predecessor in our PCMark benchmarks, scoring 2,531 versus the Yoga 3 Pro's 1,723 in the Home Conventional test, which runs the system through basic tasks like word processing, web browsing, and light photo editing. It also scored 2,778 versus the Yoga 3 Pro's 1,988 in the Work Conventional test, which is similar to the Home Conventional test but with a stronger focus on work-oriented tasks like spreadsheet editing. This improvement in performance will show more clearly the more you throw at the Yoga 900.
While the Yoga 900 smokes the Yoga 3 Pro, it does slightly underperform competition with the exact same processor. That said, the difference is so small you won't really notice it.
The Yoga 900's SSD keeps things moving along quickly. Our AS SSD benchmark clocked the Samsung SM871 M.2 SATA SSD at a high of 473MBps for sequential read speed and a high of 437MBps for sequential write speed. That's decently quick, if not as fast as an M.2 PCIe SSD would have been in the same scenario.
Battery life is decent, even if it's not the nine hours Lenovo touts. The Yoga 900 lasted 6 hours and 37 minutes during our video rundown test, in which we run a 4K ultra-HD video on loop using the native Windows 10 media player. Thanks to the Yoga 900's larger 66WHr battery, that's almost 50 percent longer than the Yoga 3 Pro, with its 44.8WHr power cell.
As for watching movies with the sound going through the laptop speakers—you get a surprisingly decent experience that way. No one will mix their next album using the Yoga 900's speakers, but the clarity is better than average, and there's even a modicum of bass. They'll do if you're too lazy to pull out your headphones.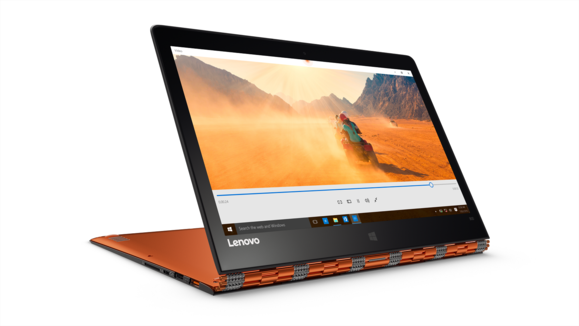 The Yoga 900 in reverse-stand mode. Credit: Lenovo