Lenovo Yoga 900 review: What this laptop gives up in size, it gains in power
A larger battery, beefier CPU, and other goodies let it run longer and faster.
Input ergonomics
I've generally praised Lenovo for its keyboards, and the Yoga 900's is about as good as it gets. It even offers dedicated functions keys—the Yoga 3 Pro instead had combined them with the top-row numeric keys. I do have a personal issue with the lack of forward rake to the unit and the keyboard deck, because I encounter lots of accidents with the space bar. That's easily fixed with a couple of self-adhesive rubber feet for the rear of the Yoga to add the incline that I need, though.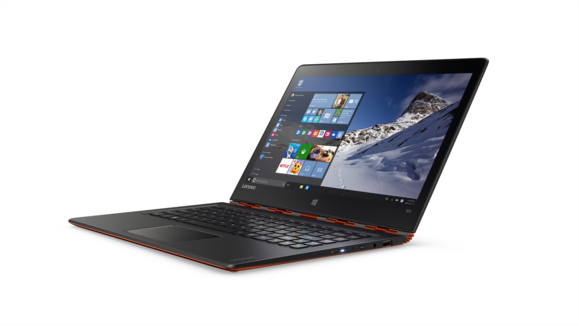 The Yoga 900 in normal laptop orientation. Credit: Lenovo
The touchpad feels very comfortable to use: It doesn't require much effort to click, and it's very smooth when dragging your fingers across it. It also isn't overly sensitive to tapping. As for the touchscreen, I can't speak highly enough of it. I wish they made touchpads that were as smoothly responsive.
Software and warranty
There was a fair amount of "value-added" software running in the Windows 10 Home system tray, a lot of it courtesy of Intel. Removing it (hint: remove then re-install the Intel drivers using Device Manager) as well as McAfee made for a slightly smoother experience.
The base warranty on the Lenovo Yoga 3 900 is a one-year carry-in. You can increase that all the way to three years with accidental damage protection for $219, or pick an option in the middle.
Conclusion
If the Yoga 3 Pro was like a stick-thin runway model, the Yoga 900 is like a muscle-toned fitness model. The Yoga 900 has much more of an edge over the Yoga 3 Pro when it comes to specs and performance, rather than in purely chic looks. It'd be nice to have seen features on it like 10Gbps USB and a PCIe SSD, but all things considered, it's still a chart-topping reversible. And everybody will dig the hinge.
Previous Page 1 2 3