LG G5 review: LG's appetite for risk is admirable, but doesn't pay off
With an improved battery swapping system, the LG G5 isn't a bad phone, per se. But various other features probably looked better in the R&D lab than they do in real life.
I never thought I'd write this about any phone, but the LG G5 just feels a bit desperate. It feels rushed. It feels like LG's designers were locked in a room, working on what could be a very good phone, and then someone bolted out the door Leeroy Jenkins-style, and unleashed the G5 on the world before the concept was fully realized.
Check it: In the transition from last year's G4 to this year's G5, LG moved to a nearly all-metal design, added a fingerprint sensor, and overhauled its battery swapping system. The company also added an always-on display, and a second rear-facing camera for taking wider-angle shots. On face value, these all sound like interesting, welcome additions. But dig a bit deeper, and you'll find some of the changes are quite incremental, and not always well-executed.
And then we have LG's new Friends accessories: two hardware modules that snap directly into the G5's body, giving the phone an upgradability story that's similar to what Google imagines for Project Ara. The Friends are LG's bid to show that the company is still thinking big in the mobile space, and pushing the edge of what a smartphone can be.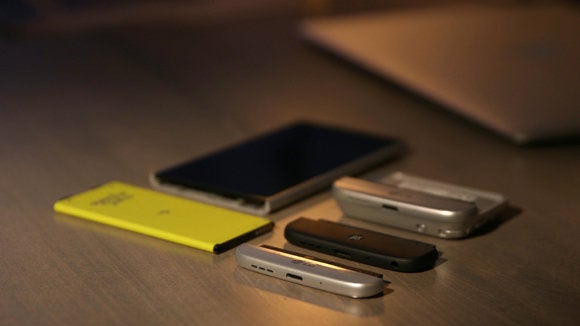 The LG G5's removable battery, along with the phone's stock chin (bottom), Hi-Fi Plus (middle) and Cam Plus (top). Credit: Dan Masaoka
These are admirable goals. Just one problem, though: The two Friends I tested—the Hi-Fi Plus digital audio converter and Cam Plus camera controller—just aren't very good. They drag down the G5's score, which is already imperiled by poor execution and dubious decisions.
It's a shame, because the G5 ($689 unlocked on BestBuy) does improve upon last year's G4 in a few areas. But for this review we have to look at the entire G5 concept—the full experience, and what it says about LG's smartphone development.
Finally, an (almost) all-metal body
For two years running, we've had to diss LG for shipping its premium flagship phones with plastic shells. Apple has had a metal unibody design since the iPhone 5, and Samsung made the jump to full metal cladding for its Galaxy flagship two generations ago.
Of course, LG has always had a defensible excuse: Its earlier flagship phones required a plastic back panel to facilitate the company's battery-swapping scheme. The opportunity to swap a depleted battery for a fully charged battery has been a unique selling proposition for LG, but owners have had to accept the compromise of a downmarket design—along with the possibility that their back panels will fly away into oblivion when they drop their phones. Indeed, those back panels were difficult to pry off for battery swaps, but eager to pop off during spills.