LG G5 review: LG's appetite for risk is admirable, but doesn't pay off
With an improved battery swapping system, the LG G5 isn't a bad phone, per se. But various other features probably looked better in the R&D lab than they do in real life.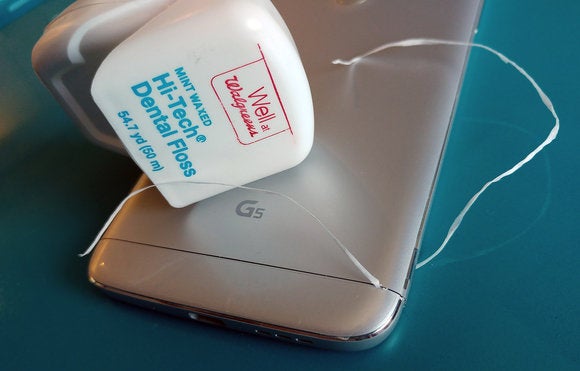 Note the gap. Also note that non-hi-tech flosses will fit in the gap as well. It's just not an elegant design. Credit: Jon Phillips
I never found myself swapping batteries with the G3 and G4 because prying off the plastic back panel was a pain in the ass. So, for this reason alone, the improved system might compel me to finally to get with LG's swapping program. But here's an even more compelling reason for battery swaps: The G5 falls behind its competitive set in terms of raw battery life.
With a time of 6:33 in the PCMark battery life test, the G5 has noticeably less longevity than the Galaxy S7 (7:15) and Galaxy S7 Edge (8:17). Accordingly, the G5 lagged behind in the Geekbench 3.3 battery test as well, lasting for 6:03 to the S7's 6:56 and S7 Edge's whopping 7:59.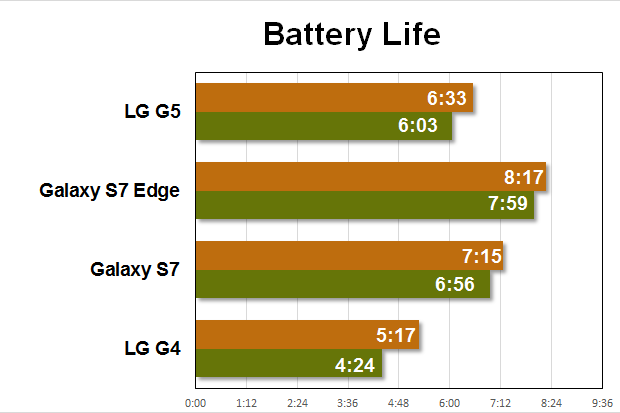 The LG G5 beats the battery life of last year's G4, but falls behind its current Samsung competition. The orange line represents PCMark's battery life test. The green line refers to Geekbench 3.3's battery life test. Click on image to enlarge.
Beautiful display with a near-useless always-on feature
LG's battery has to drive an insanely high-resolution 5.3-inch "Quad HD" display. Last year's G4 has the same 1440x2560 resolution, but measures 5.5 inches. I typically like my phones as large as possible, but during testing I never noticed the G5's slight dimension decrease, and LG's IPS LCD display is as beautiful as ever. I did notice a small amount of backlight bleed with the Fullscreen Display Test app, but my review unit didn't suffer enough bleed to be a tangible problem issue during real-world use.
On the flipside, LG's new always-on feature—which shows the current time and notification icons when the phone is sleeping—is insanely dim compared to the Galaxy S7's similar implementation (which benefits from Samsung's Super AMOLED screen).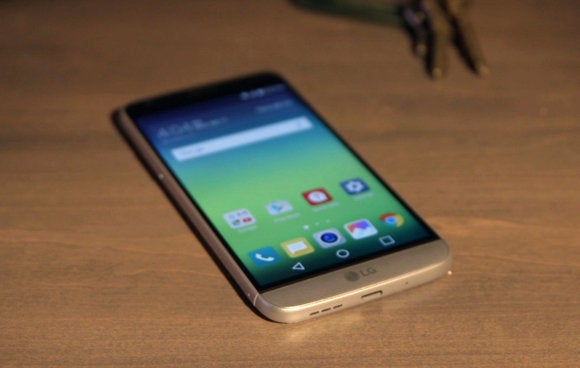 The LG G5's display measures 5.3 inches, and boasts a breathtaking pixel density of 554 ppi. Credit: Dan Masaoka
Just as troubling, LG's always-on feature doesn't share helpful information: You can only see which apps have waiting notifications. I much prefer Google's Ambient Mode, a similar feature in pure Android Nexus phones, which presents much more granular detail, like the content of texts and Hangouts messages.
LG still supports its Knock Code feature to wake the display from sleep, but now the system requires six screen taps (instead of four) to unlock the phone. I've always loved Knock Code, but throughout testing I used LG's new fingerprint sensor almost exclusively to unlock the phone. Like the Nexus 6P's sensor, LG's is superfast and accurate, and sits on the back of the phone.
Previous Page 1 2 3 4 5 6 7 Next Page