LG G5 review: LG's appetite for risk is admirable, but doesn't pay off
With an improved battery swapping system, the LG G5 isn't a bad phone, per se. But various other features probably looked better in the R&D lab than they do in real life.
It's a slightly less convenient position than the front-of-phone sensor orientation you'll find on Samsung and Apple phones, but it undoubtedly helps preserve the G5's compact dimensions. Indeed, LG's display seems to make use of every millimeter of available space, and putting the sensor in the front would probably just increase the G5's height.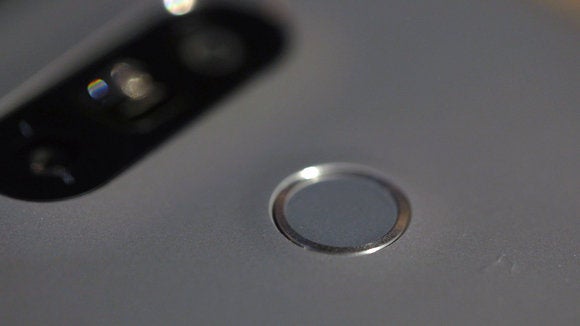 LG's fingerprint sensor is small but that doesn't seem to impair accuracy in the least. Credit: Dan Masaoka
LG's fingerprint sensor is smaller than the Nexus 6P's sensor, but the decrease in size never posed any problems during a week of use. LG's sensor also integrates directly with the power button—which means the power button remains stuck on the back of the phone. But at least LG finally moved its volume controls to the side of the body. This makes adjusting music volume during the middle of a workout a bit less awkward.
Strong performance with a missing app drawer
Armed with the same Qualcomm 820 processor that appears in Samsung's Galaxy S7, the LG G5 performs similar to its direct competitor. In PCMark's Work Performance productivity test, the G5 scored 5686, where the Galaxy S7 hit a slightly higher 5774. In 3DMark's Sling Shot ES 3.1 gaming test, the G5 scored 2309 to the Galaxy S7's 2554. Throughout all our other benchmarks, the G5 trailed the Galaxy S7 by similarly small margins, and none of the performance deltas were wide enough to be of any concern. More importantly, the G5 doesn't stutter or lag during real-world use.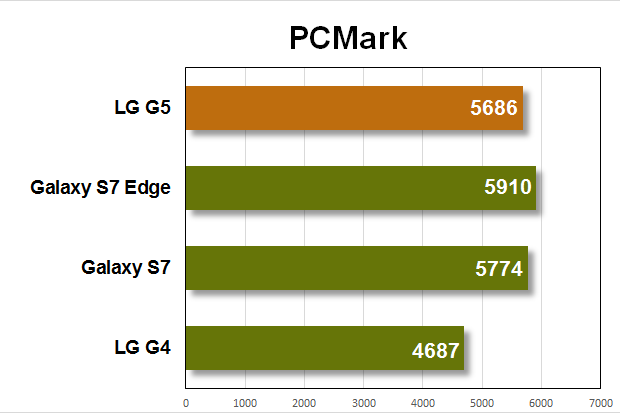 This is how the G5 performs in PCMark's basic productivity test. It clearly beats the G4, and runs within a margin of error of Samsung's latest flagship phones. Click on image to enlarge.
On the software side of the equation, LG mostly executed small tweaks to its skin of Android Marshmallow. There are some changes to the Settings interface, but they won't piss you off. You'll just think, "Hmmm. That's different."
But when you get to the bottom of your home screen, brace yourself. Out of the box, the G5 ships without an app drawer—and that's just madness if you're a long-time Android user who's come to rely on the app drawer for finding, sorting, and simply storing apps.
In its reviewer's guide, under a section titled "Advanced UX," LG says managing apps has become more and more complicated, and asserts its new "integration" of home screen and app drawer is "expected to provide a more straightforward approach to app management."
Previous Page 1 2 3 4 5 6 7 Next Page