LG G5 review: LG's appetite for risk is admirable, but doesn't pay off
With an improved battery swapping system, the LG G5 isn't a bad phone, per se. But various other features probably looked better in the R&D lab than they do in real life.
It's an easy system to use, but the wide-angle camera introduces significant fish-eye distortion, and has limited applications. LG suggests using it to get more people into a group shot, but your friends on the edges of the photo will look like they're being stretched by a fun-house mirror.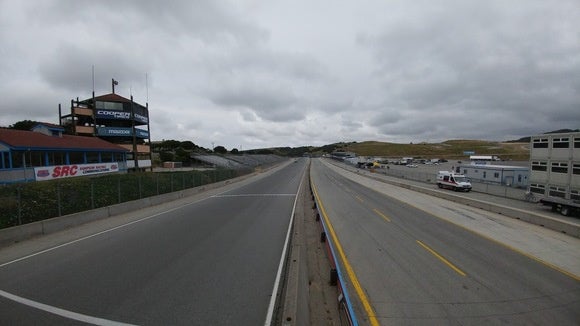 The front straight at Laguna Seca shot with the LG G5's 8-megapixel wide-angle lens at its widest (135 degrees) field of view. Note the buildings that suddenly come into view—as well as the distortion of the white line in the lower left. Credit: Jon Phillips
You can also use both cameras together to create "pop-out pictures" where an image from the wide-angle camera is surrounded by an image from the standard camera. Add in wacky filters like Fish Eye and Lens Blur, and you have the kind of horrible decoupage that only appears in third-grade art projects. It's another feature that would have made Steve Jobs apoplectic.
The dual-camera feature feels like another missed opportunity—or wild shot in the dark—from LG's engineering team. You can tell they're trying hard to innovate, but the results just aren't classy.
With Friends like these, who needs accessories?
To put a kicker on the entire confusing G5 story, the two Friends accessories left us wondering why LG created them at all.
Let's start with the Cam Plus, a somewhat chunky module that boasts physical controls for toggling on the phone's camera interface, snapping the shutter, starting and stopping videos, and adjusting zoom. The Cam Plus includes a 1200 mAh auxiliary battery (giving you a total of 4000 mAh with the module in use), and has a grippy texture that's intended to make the G5 a more comfortable, secure shooting device. You install the Cam Plus with the same procedure required for battery swaps.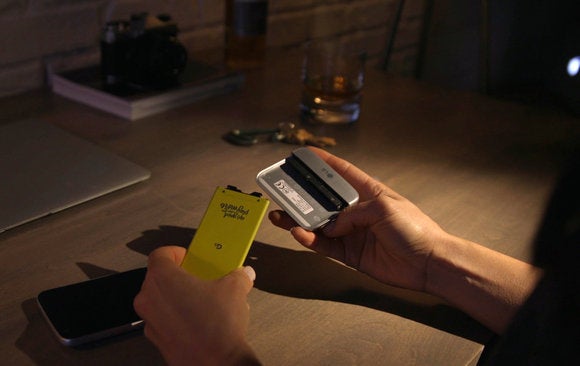 Using the Friends modules also requires battery swaps. Note that the Cam Plus shown here includes a 1200 mAh auxilliary battery. Credit: Dan Masaoka
It all sounds intriguing, but I found the Cam Plus'ed G5 to be too bulky in my pocket, and I always feared losing the phone's original chin. But even worse, the physical camera controls just don't provide enough benefit to justify the accessory's $70 price. I appreciated the ability to quickly toggle back and forth between LG's camera software and home screen, but that was about it.
The jog dial for the Cam Plus zoom feature lacks resistance, and is difficult to use for smooth, gradual zooms. It's just inexplicable that such a feature-limited accessory would foul up this one function so badly. Beyond that, all I can say is that a much more useful Cam Plus would provide physical adjustment for all of LG's wonderful manual camera controls.
Previous Page 1 2 3 4 5 6 7 Next Page