MacBook 2016 review: Ultraportable laptop satisfies with speed gains
It's not a desktop Mac replacement. The MacBook is ideal for on-the-go use.
When it comes to hardware, Apple isn't afraid to force its users to adapt, to change habits. Longtime Mac users remember when Apple stopped including floppy and optical drives, or when FireWire was discontinued. More recently, Mac users have had to accept the inability to upgrade hard drives and RAM, or that the Magic Trackpad 2 is the preferred input device, with its support for gestures that can't be performed on a Magic Mouse 2.
The MacBook (available in the Apple Store) is one of those game-changers. When it was released last year, it was pretty obvious that Apple wanted to push its users in a certain direction, to a place where there are no wires, where you depend on the cloud, where you can carry a laptop effortlessly and never worry about the battery running out.
The push was more like a big shove. Apple's thinnest and lightest laptop has only one port for connecting devices, and it sports a processor that sacrifices performance. And Mac users pushed back, especially about the single port. It wasn't hard to find someone who wished that the MacBook was more like the MacBook Pro or that Apple would do something with the MacBook Air. (Apple did do something with the MacBook Air, the 13-inch model specifically. It now comes standard with 8GB of memory instead of 4GB.)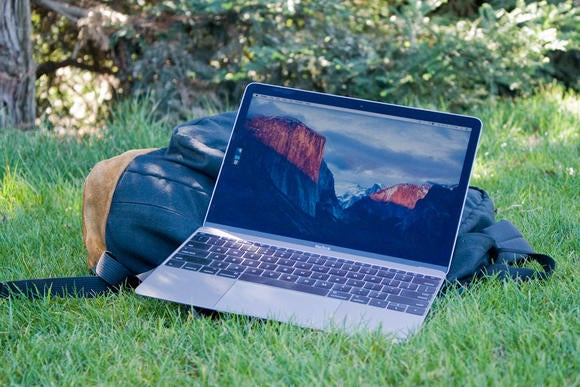 The 2016 MacBook is just as thin and light as its predecessor. All the changes in the new version are inside the aluminum case. Credit: Roman Loyola
When Apple announced that it was updating the MacBook, Mac fans clicked on news links in anticipation. Will Apple add another port? Or maybe upgrade from USB-C to Thunderbolt 3? How 'bout an HD FaceTime camera instead of the 480p camera that was on last year's MacBook?
Nope, sorry. None of those features were added. But Apple did upgrade the processors and graphics. That's certainly nothing to scoff at. In fact, the MacBook closes the gaps between itself, the MacBook Pro, and the MacBook Air, so much so that for general use, the speed should satisfy most users.
The MacBook also has longer battery life. Apple's battery specification is now an hour longer than the previous MacBook; ten hours for "wireless web" and 11 hours for "iTunes movie playback." Apple told me that the longer battery life is due to better battery chemistry. The size of the battery is the same as before.
And, oh yeah, the MacBook is available in Rose Gold now, in addition to Gold, Silver, and Space Gray. You won't find those color options with the current MacBook Pro and MacBook Air, for what it's worth.