MacBook 2016 review: Ultraportable laptop satisfies with speed gains
It's not a desktop Mac replacement. The MacBook is ideal for on-the-go use.
For reference, I also compared the 1.2GHz Core m5 MacBook to the current 13-inch MacBook Pro models, which have Broadwell processors. Interestingly, the MacBook isn't far behind in Geekbench's single-core test. That means that for tasks like email, writing apps, spreadsheets, and basic websites, you may not notice a speed difference between the two different laptops. But as expected, the MacBook Pro blows past the MacBook in Geekbench's multi-core test. Translation: With apps that can use multiple processing cores, like professional video, audio, or image editors, you're better off with a MacBook Pro.
One last platform comparison: How does the new MacBook stack up against the iPad Pro from a pure performance standpoint? You might be surprised. Both the 12.9-inch and 9.7-inch iPad Pro perform in line with the new MacBook. Just another thing to consider (or to make your decision more complicated).
For a look at the numbers and how they compare, we've posted several bar charts on the next page. You'll also find a set of benchmarks for Cinebench OpenGL and Blender.
Port of contention
Of course, there's more than performance to consider when picking a Mac laptop. As I mentioned earlier, much of what the MacBook offers hasn't changed from last year and was covered in our previous review. But the single USB-C port is a serious point of contention for shoppers, so I feel I should address it.
Apple positions the MacBook as the laptop for the wireless world, with "wireless" meaning more than just your Internet connection. It also applies to external input devices (there's Bluetooth for that) and external storage (the cloud). (There is an audio-out jack on the opposite side of the MacBook, so you can still use wired headphones and speakers.) You shouldn't really need to use the USB-C port, except when you need to charge the laptop.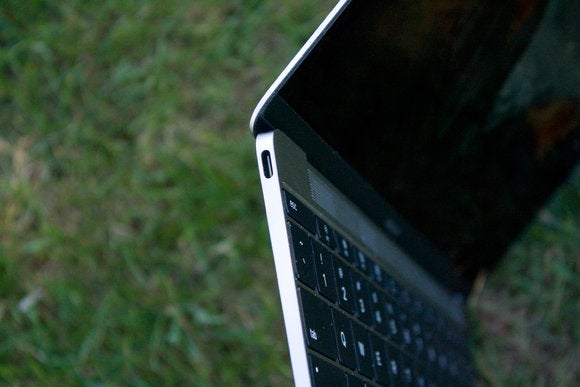 The MacBook's USB-C port is for charging and connecting peripherals. If you want more ports, you either need to connect a USB-C hub, or consider a MacBook Air or MacBook Pro. Credit: Roman Loyola
Why didn't Apple upgrade the port to Thunderbolt 3, which uses the same port type and is compatible with USB-C? When I posed this question to Apple, a representative said that Thunderbolt 3 has chip and thermal considerations that don't fit with the MacBook's fanless design. It's not as simple as slipping in a Thunderbolt subsystem in place of USB-C, so if Thunderbolt 3 ever does make it to the MacBook (if it's possible), it's going to take some re-engineering of the internals.
The MacBook's single USB-C port is a deal-breaker for some. You'll have to go with a MacBook Air or a MacBook Pro. But you really want the size and weight of the MacBook, you say? You could wait another year and see if Apple finally relents and adds another port. It's not unprecedented. The first MacBook Air in 2008 had only one USB port, and then Apple added a second USB port two years later.
Previous Page 1 2 3 4 5 Next Page