Magic 2014 for the iPad is like poker for nerds
With a new Sealed Play mode and hundreds of new cards, Magic 2014 is the best way to experience Magic: The Gathering without breaking the bank of real cards.
Challenges and drafts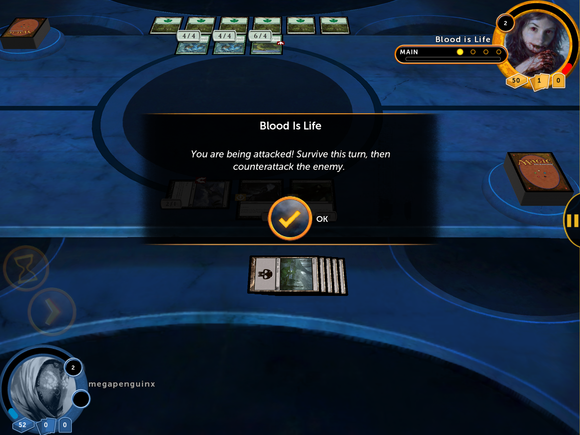 Challenges give you a scenario to complete.
While the campaign is really just there to unlock decks and show new players the ropes, the Challenge and Sealed Play modes are where Magic 2014 really shines. Challenges has you overcome specific obstacles in order to win. Most of them involve figuring out the most effective way to block an opponent's attack to retaliate the next turn, but a number of the advanced challenges present scenarios that'll stump even the most avid Magic fan. There are ten Challenges in all, but they can take a while to complete as you rack your brain for the solution to the problems they present.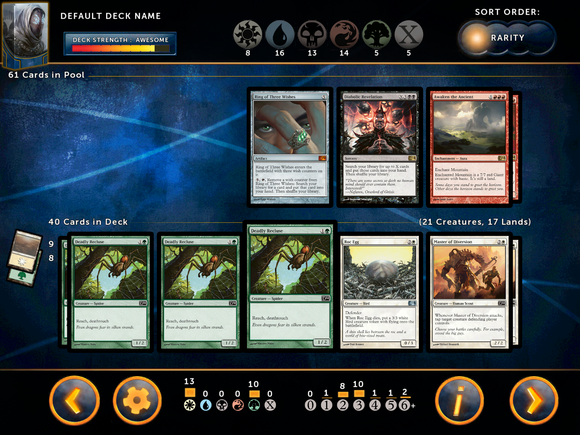 Sealed Play gives you the ability to build your deck from scratch
Sealed Play is basically Magic 2014's equivalent to drafting. You are given 5 virtual booster packs which contain a mix of cards you use to custom build a deck from scratch and there's an auto-build option that'll build you a well-rounded deck out the cards you pull from the packs. Now before you go thinking that you can build your dream 5-color Sliver tribal deck, you should be aware that the cards you get are usually mediocre and push you to play either a mono or two colored deck. As you defeat opponents in Sealed Play you unlock additional booster packs to add cards to your collection, but you can make it through the Sealed campaign with the same deck you started without too much trouble.
Bottom Line
The addition of Sealed Play makes Magic 2014 worth a download, but the game just isn't as good as its predecessor in terms of overall content and the difficulty curve is just all over the place. I get that this is a title aimed at people unfamiliar with the game, but it would be nice to have more content for people who've been playing Magic most of their lives. If you're like me and can't always find someone to play the game with you in real life, Magic 2014 should quench your thirst for planeswalker versus planeswalker action. That is, at least until Wizards of the Coast releases a Magic: The Gathering Online client for the iPad.