Microsoft's Surface Studio AIO by the numbers: Pricing and configuration details
The Surface Studio's hardware configurations vary greatly.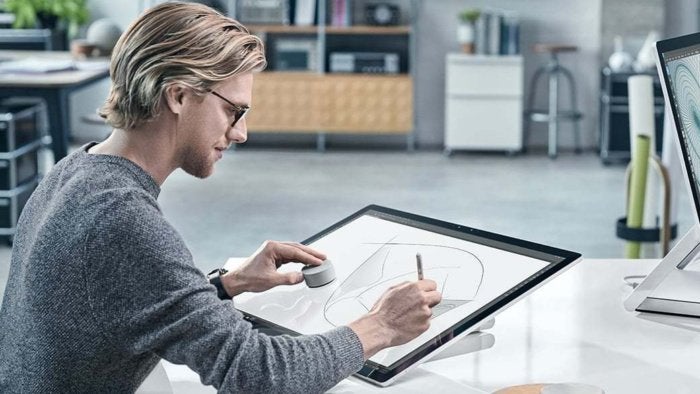 The Surface Studio being used with a Surface Pen and Surface Dial.
The $3,499 Surface Studio upgrades the processor to a Core i7, complete with the i7's crucial Hyper-Threading feature than can help you churn through video editing tasks that much faster. It also doubles the onboard RAM to 16GB.
Finally, the top-of-the-line Surface Studio configuration keeps the Core i7, upgrades the graphics to a much more potent Nvidia GTX 980M, and doubles both the RAM and available storage to 32GB and 2TB, respectively. The cost? A staggering $4,199, and you'll still need to spend another $100 on the radical Surface Dial to use Microsoft's all-in-one as it's meant to be used.
Like I said: The Surface Studio's a true iMac challenger indeed. You can preorder Surface Studio now, with an expected ship date of December 15—though we'd recommend waiting for independent reviews before plopping down that much cash.