Never forget anything ever again with these 11 phone tricks
Evernote? Reminders? Calendar? Those are fine, but there are other ways to use your phone to remember stuff.
Don't get lost in a sea of cars the next time you go to the mall or a football game. If you've got good GPS accuracy, drop a pin at your current location in your mapping app of choice—and save the pin if possible—so you can narrow down your search for your car later on.
If this isn't an option, take a photo (or photos) of your surroundings so you have an idea of what visual cues to look for when you return to the lot. This can also be useful if you're visiting a city you're unfamiliar with.
Make sense of cable messes

Got a wiring mess to untangle? Take a picture of everything when it's plugged in. That way, you can remember which cables went where when you're done tidying up.
Keep tabs on who borrowed what

"Who did I lend my stuffed hedgehog to?" Take a picture of your friends holding items you lent them, and even email/share it with them. So you both will remember, and there will never be an argument about whether or not you lent it to them. (It's also useful for shaming them on Facebook, if they're slacking about returning your stuff.)
Use it as a wallet backup

Take pictures of your driver's license, health insurance cards, and credit cards (front and back). Photos can't necessarily replace the real thing, but if you need a piece of information from one of your cards but don't have your wallet on hand, you'll still have all the info that you need. Just be aware of the security risks and make sure you set a passcode on your phone to help secure it.
Foursquare as a to-visit list

Check-in apps like Foursquare aren't just for where you are, they're for where you want to be. Foursquare's to-do list is perfect when you pass that cute bistro you want to try someday.
Text reminders to the future you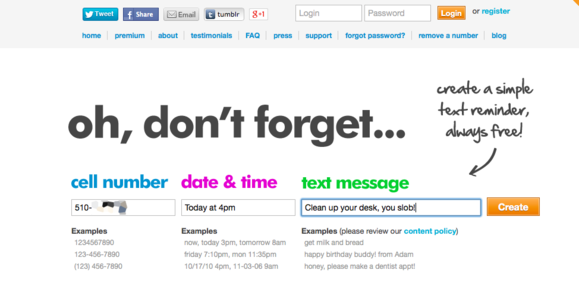 Use an online service like Oh, Don't Forget to send yourself a text message at a particular date and time. This can be particularly useful if you aren't a big believer in calendars or if you just had a brilliant thought you don't want to lose.
This trick can also come in handy if you're on a blind date and want to fake an excuse to leave. "Oh, that text was really important—I have to go!"