Nine batteries for charging your iPad (and everything else)
Whether you're exploring the great outdoors or enduring a power outage, a portable charging device can come in handy when electrical outlets are either unavailable or, as is often the case, not functioning.
Unlike most of the chargers in this roundup, the Portable Power comes with, and requires, its own power adapter for charging, which is much less convenient than charging via USB. Interestingly, this iSound battery also has a built-in LED flashlight, which I suppose might come in handy when you're searching in your bag for that extra power supply you had to pack.
In our tests the Portable Power took around 7 hours to charge fully; it charged our dead fourth-generation iPad to 53 percent of its capacity in 2 hours, 45 minutes before running out of juice.
Note that what you plug into the five USB-charging ports matters: For example, you can connect an iPad and one smartphone, or five phones but no iPad. If you try to add a second phone with the iPad, however, the LEDs on the Portable Power start flashing, and all devices stop charging until you cycle the device's power button.
iSound Portable Power Max
With a massive 16,000-mAh capacity, the $130 Portable Power Max (3 of 5 rating) was the only portable battery in this group that was capable of fully charging our dead fourth-generation iPad. We were even able to plug in a second iPad and charge that by a small percentage before the Portable Power Max died. The drawback to having so much capacity is that charging the battery itself took forever—nearly 14.5 hours! The Power Max is also relatively large at 5.8 by 3.3 by 1.0 inches, and it weighs 14.6 ounces.
Like its smaller sibling, the Portable Power Max requires the included (and inconvenient) AC adapter to charge. And also like the standard Portable Power, the Max's five USB ports can't handle a lot of power-hungry devices: If you've connected a full-size iPad to it, adding more than one smartphone stops the charging altogether until you toggle the battery's power button off and on. (As with the smaller Portable Power, we were able to connect phones to all five USB ports without overloading the battery.)
Just Mobile Gum Max Duo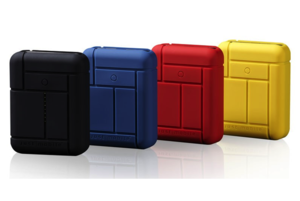 If you like your mobile chargers with a splash of color, Just Mobile's $130 Gum Max Duo (3.5 of 5 rating) offers optional rubber sleeves in red, blue, and yellow to cover its aluminum and black surfaces. The Gum Max Duo, which charges via an included Micro-USB cable, offers 11,200 mAh of power, weighs 9.7 ounces, and is 4.3 by 3.2 by 1.1 in size.
The "Duo" in the product's name refers to the battery's two USB-charging ports, one providing 2.4A (for iPads) and the other 1A (for phones, iPods, and other lower-power devices). We were able to charge the Gum Max Duo, using Apple's iPad charger, in a leisurely 13 hours, 14 minutes. When fully charged, the battery charged our fourth-generation iPad to 75 percent of full capacity.
Previous Page 1 2 3 4 5 Next Page