Nintendo's Miitomo is whimsical and weird, but the fun seems short-lived
The gaming giant's first iOS offering is… a pseudo-social network?
It was about a year ago that Nintendo announced plans to make iOS games, finally dipping its toes into the mobile waters after holding tight to its console-centric past. Theories abound over what kind of game would lead the pack: An old-school favorite like Super Mario or The Legend of Zelda tweaked for touch devices? Or maybe a more familiar, proven mobile experience dressed up with classic characters?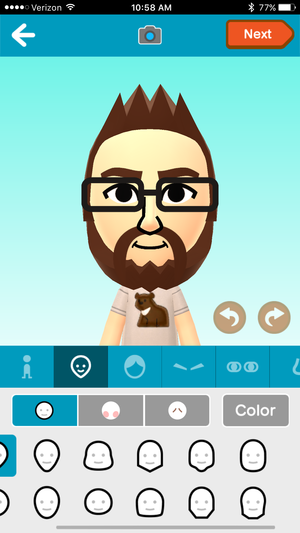 Snap a selfie and the app will create a Mii for you, but you're better off making one from scratch.
In fact, it's neither—and surprisingly, it isn't much of a game. Miitomo is Nintendo's first proper mobile effort, launching in North America in late March and quickly topping the App Store's free charts, and it's more of a silly social experiment than anything. In short, you'll make your own cartoonish character and then answer questions and read responses from friends, building new interactions atop the social connections you already have.
Miitomo is not the game that many hoped Nintendo would make for mobile, but it strongly imbues the modern essence of the company, taking cues from some Wii and Nintendo 3DS offerings. Also, it's a more cunning mobile debut than expected in some ways, while also clunky and sluggish to navigate. All told, it's very Nintendo—but will it keep your long-term interest?
Mii and you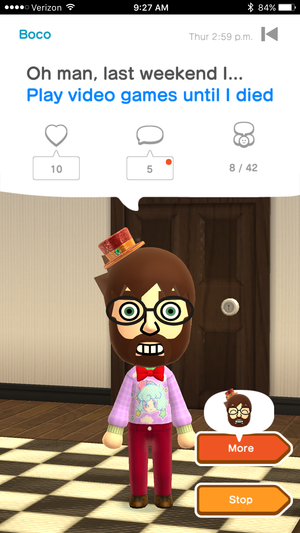 Get a few oddball characters on your friends' list and it can make Miitomo a lot funnier along the way.
While you can add local pals, most users are likely to fill their friends lists with those pulled in by linking their Facebook and Twitter accounts, making Miitomo something of an added social layer atop those existing networks. You'll build a Mii avatar—which should be familiar to Wii, Wii U, and Nintendo 3DS owners—and deck it out with clothes before you dig into the day-to-day core of the experience.
Despite the colorful and expressive characters, much of your time is spent reading or writing text: Perusing responses your friends have to varying queries, and then writing your own answers as well. What has surprised you the most in your life so far? What made you smile recently? What's your favorite kind of bread? What were you doing a few minutes ago?
They're alternately inane, mundane, and introspective, but the questions push you for specific input in a way that Facebook and Twitter simply do not. And the queries are truly the backbone of the Miitomo experience, as there are no "status updates" or personal feeds of messages. You can like and comment on any public response, which can create something of a chat thread between all of that user's friends, but Miitomo really is like a big, semi-private group Q&A.