Nintendo's Miitomo is whimsical and weird, but the fun seems short-lived
The gaming giant's first iOS offering is… a pseudo-social network?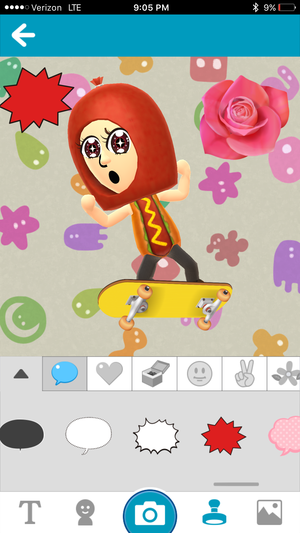 The Miifoto editor lets you assemble meme-ready, nonsensical images, of which there's already a flood on the internet.
That's the meat of Miitomo, but some side hooks keep things appealing. You'll amass coins—earned through regular use, but also sold in bundles ranging up to $75 apiece—to use on avatar clothes and costumes, with more added daily. And you can also mock up ridiculous and amazing Miifotos to share with friends or to other social networks.
The Miifoto editor provides a surprising amount of customization to alter Mii poses and facial reactions, not to mention use existing photos and images, and the results can be pretty spectacular. Just check the #Miifoto hashtag on Twitter, although not everything may be safe for work. If there's one part of Miitomo that has the potential to endure, it's surely Miifotos, as they're popping up all over other social networks.
Meh-tomo?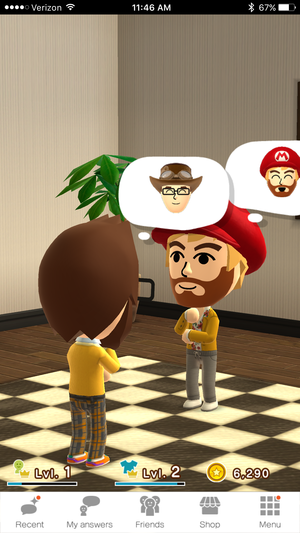 Your Mii will occasionally chat with a friend's Mii, but you can't really do anything: it's not a live conversation and you're provided no direct control of your avatar.
Considering how quickly the Miifotos have become a delightful internet meme, maybe Nintendo really is savvier about the mobile market and social networking than we give them credit for. Then again, maybe not.
For the first couple days, I was totally enraptured by Miitomo. I linked up with friends and colleagues and was excited to see their answers to the rotating questions, not to mention their replies to my own responses. And once I convinced my wife to grab the app, our individual interest became mutual—we spent quality time on the release date staring at our respective phones, just trying to figure out the mystifying wonder of Miitomo.
A few days later, I'm much less enthralled. Initially, I liked the atypical approach to a social network, with the questions providing a level of insight into friends that I wasn't getting through our established online connections. But now, Miitomo feels mired in repetition. The Recent Activity section just shows friends' responses that I've already read, and tapping my Miitomo's thought bubble to flip through new answers is a slow process marked by short, but consistent delays.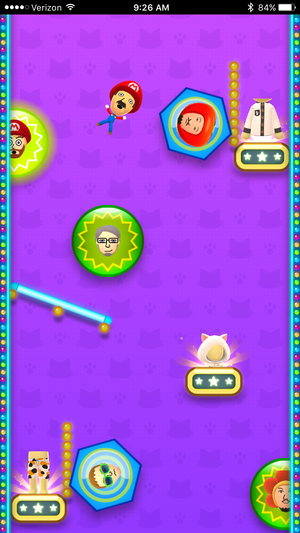 You can use game tickets or coins to play a pachinko-inspired mini-game, but all you'll do is drop a Mii and watch what happens.
Furthermore, I can't help but think that the initial burst of communal enthusiasm has diminished. Whereas there was plenty of back and forth in the first couple of days, my recent responses have barely been liked or commented on. Maybe my responses are boring. Or maybe a lot of people are simply getting bored with Miitomo.