Nuu X4 review: Low-end, even by low-end standards
The X4 will cover your basic smartphone needs, but little else.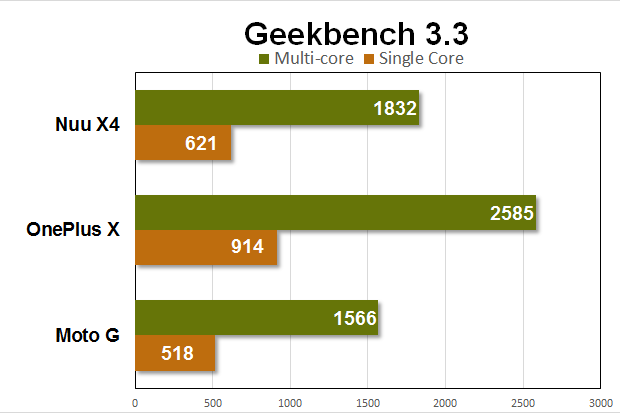 The Nuu X4 struggled to keep up with the other low-end phones in its class. Click on image to enlarge.
Geekbench single- and multi-core tests were equally lackluster, and were among the lowest we've seen among recent smartphones we've tested. As for graphics benchmarks, the X4 failed to complete both the 3DMark and GFXBench Manhattan tests—the latter of which resulted in an "out of memory" error, suggesting that this phone simply doesn't have enough on-board video memory to complete certain tasks.
Despite its low scores, you might not notice any issues if you don't push your phone too hard: YouTube videos streamed smoothly, and the phone seemed generally responsive as I used it.
Battery life: Meh
The X4 comes with a standard 2250mAH battery and, like other budget smartphones we've tested, it devours battery power rather quickly. It managed to eke out about 5 hours and 27 minutes in the Geekbench battery test, and about 4 hours and 14 minutes in the PCMark battery test.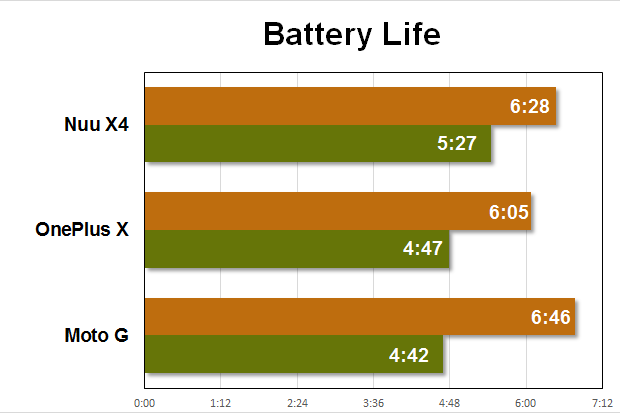 If you're looking for a low-end to mid-range phone with "good enough" battery life, you're better off with a Moto G. Click on image to enlarge.
In casual use, the battery seemed to drain just as quickly as the benchmarks suggested: At one point I managed to drain the battery by a full 12 percent with about 30 minutes of light, intermittent use. A quick game of Threes! Free drained the battery nearly 10 percent in 10 minutes.
You shouldn't expect incredible battery life from an entry-level smartphone, but it isn't unreasonable to demand a phone that will get you through your day without recharging. Fortunately, you have the choice of purchasing a second battery pack.
Old Android with a few installed apps
The X4 ships with about as close to stock Android as you can expect to find on a non-Nexus device. It runs Android 5.1 Lollipop, but Nuu kept it as close to stock as possible. Still, it's worth noting that you won't be running the latest version of Android if you buy this phone.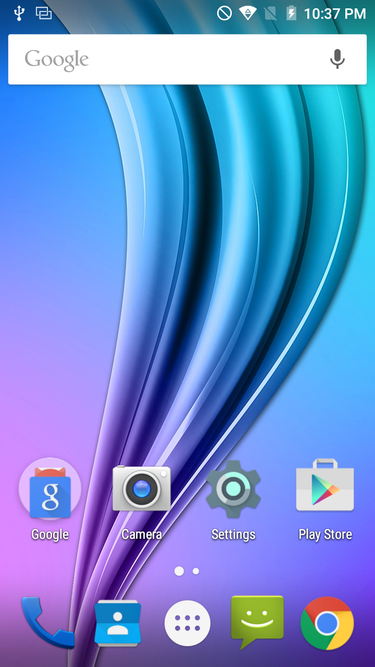 The Nuu's interface is nearly identical to stock Android, but it's running the older Android 5.1 Lollipop.
There's also a bundled file manager that lets you browse files stored on your phone, and an FM Radio app, which you'll need to plug in a pair of headphones to use because it uses the headphone cable as an antenna.
As entry-level as you can get

Looking for a top-notch budget phone? Keep searching.
Previous Page 1 2 3 4 Next Page