One in four consumers with notebook replacement plans put unconventional designs on wish list
But convertibles and 2-in-1s won't solve the industry slowdown; too many consumers plan to keep what they have.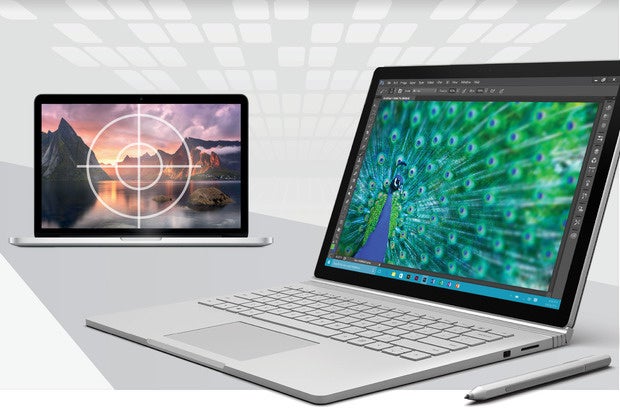 Credit: Microsoft / Apple / Thinkstock
Although tales of tablets replacing personal computers have essentially evaporated, computer makers should pin what hope they can muster for growth on the tablet's close cousins, 2-in-1 devices and convertible notebooks, a Gartner analyst said yesterday.
A Gartner-conducted survey of 19,000 consumers in the U.S., Brazil, China, France, India and the U.K. found that just 2% of those planning to replace a desktop PC in the next 12 months would pick up a tablet instead of another personal computer, sticking a fork in the idea that slates would crush traditional computers. Laptop owners were slightly more likely to do so, but even among them, only 4% claimed they would ditch their current system for a tablet.
On the surface, that sounded like good news for PC makers, who were spooked by the explosion of the iPad, rushed their own tablets into the market to compete, but then watched the tablet market go seriously south after a very solid majority of consumers in developed economies bought one.
So with the threat from tablets declining to the vanishing point, why haven't sales of PCs rebounded? Why have they continued to contract -- 15 consecutive quarters and counting -- with no near-term hint of growth?
Because people are holding onto what they have, said Meike Escherich of Gartner, in many cases indefinitely -- and because a recent proliferation of choices simply stumps them.
Overall, Escherich said, half of the respondents don't want to replace any of their computing devices -- whether PC, tablet or smartphone -- until they absolutely have to. And almost-as-large percentages of those surveyed -- 28% in the U.S., 35% in France, 31% in the U.K. -- have no plans to refresh any of their devices in the next year.
The news isn't much better for PC replacements. Of those polled, just 22% living in mature markets such as the U.S. and Europe said they intended to purchase or upgrade a laptop, a percentage slightly larger than the 17% who planned on buying or replacing a tablet.
With device penetration levels at or near saturation numbers, no replacements mean no sales.
For those who now own a PC and do plan on replacing it in the upcoming 12 months, most will stick with what they have. Two-thirds of those with a desktop PC who said they would replace it would purchase another desktop. Fewer notebook owners -- 46% -- said they would buy a new laptop.
"Most just 'go with the flow,' i.e. buy whatever is in the shop when they decide to buy new hardware," Escherich said in an email reply to questions.