Open iOS Safari to a blank page
Tired of iOS Safari loading old pages, or popping up your bookmarks, when you just want to open a new Web page? Here's how to open Safari to a new page.
One of my biggest beefs with Safari on iOS is that when I tap the Safari icon on my Home screen, instead of being able to use Safari immediately, I often must wait for the browser to reload the last page I was viewing—usually hours, or even days, earlier. (This is less of an issue on the iPhone 4 and the iPad 2, as the additional memory in these models means Safari doesn't flush its page cache as often, but it still happens frequently.) Similarly, if I previously closed all Safari windows, the next time I open Safari, it pops up my bookmarks list instead of letting me immediately enter a URL.
A feature I'd love to see in iOS Safari is for the browser to open to a blank page whenever I tap the Safari icon directly. But until Apple adds such a feature, it doesn't have to remain just another item on a wishlist—you can get essentially the same behavior, right now, using iOS's Home-screen-bookmark feature. Here's how: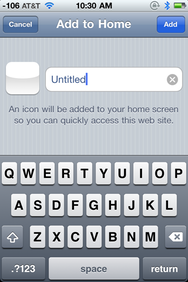 Creating a Home-screen bookmark for a blank page
Launch Safari on your iPhone, iPad, or iPod touch.

In the URL field, type about:blank and then tap Go to "open" that page…which will be completely blank.

Tap the Share button (the one at the bottom of the screen that looks like a rectangle with an arrow).

Tap Add To Home Screen to create a Home-screen bookmark for this blank page.

In the dialog that appears, give the icon a descriptive name. (I chose New Page for mine.)
The Home-screen bookmark is saved to your device's Home screen, where you can move it wherever you like. On my iPad and iPhone, I've moved this bookmark to my first Home screen, relegating the actual Safari icon to a folder of rarely used stock apps, where it hangs out with Compass, Notes, and Stocks.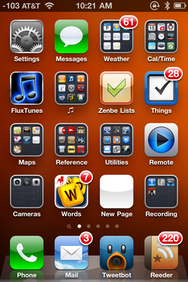 The New Page icon (lower-right) on my Home screen
Whenever you want to open Safari to view a new page, you simply tap this New Page icon on your Home screen. Safari opens—instantly—to a blank page, ready for you to type a URL or open a bookmark.
Another benefit of this tip is that if you were planning to keep currently open pages handy (meaning you were really going to open a new Safari page), you avoid not only having to wait for a page to reload, but also the extra steps of tapping Safari's multiple-pages button and then the New Page button. And it avoids the aforementioned annoyance of your Bookmarks list popping up on its own whenever you launch Safari after previously closing all Safari windows.